General election 2015: The growing impact of the Polish vote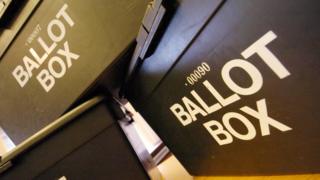 Growing numbers of Polish residents in the UK are applying for British citizenship, allowing them to vote in the upcoming general election. In some marginal constituencies, their votes could make a difference.
In the 2010 general election, Labour held their seat in the constituency of Southampton Itchen by just 192 votes, with the Conservatives second.
When the UK votes again this May, only the slightest swing would see a Tory victory - meaning the area's Polish-born residents, numbering 2,292 in the 2011 census, could be a deciding factor in the outcome.
And while official figures suggest the number of Poles getting British citizenship across the UK remains relatively low - with 6,066 applying in 2013, compared to more than 800,000 residents - anecdotally this is changing.
Many in the Polish community say the numbers have risen sharply. Fuelled by worries about an EU referendum and its potential consequences for them, growing numbers want to vote.
This certainly seems to be the case in Southampton Itchen. Every Polish person I meet says they have applied for British citizenship themselves, or know friends who have put in an application.
Przemyslaw Tryc is well known in the city. Resident for eight years, and a scientific glass-blower at the University of Southampton, he used to present the Voice of Poland programme on the city's community radio station, Unity 101.
He tells me that he is the last of his group of friends to apply for British citizenship. Everyone else he knows has already done so.
The biggest reason for this, he says, is the anti-immigrant rhetoric coming from politicians - not just in UKIP, but the prime minister's focus on immigrants and benefits too.
People are worried about an EU referendum, he tells me. Many Poles fear they will be kicked out of the country if Britain votes to leave the EU. They feel David Cameron wants "to get rid of the Poles".
"Most people think that will happen," he says. "First you close the border, then you deal with the people you have here.
Conservative policy is to restrict benefits for newly arrived migrants - not to repatriate people.
Others I meet give more positive reasons for becoming British. Tomasz Dyl, a young entrepreneur, tells me he plans to apply for a British passport because he feels Britain is his home.
He arrived in Southampton when he was 13 years old, and now runs a marketing company employing 11 people - almost all British. He has bought a house in the city, in the Itchen constituency.
Another young Pole, Przemek Heluszka, manages the Food Stop delicatessen in Bitterne, the heart of Itchen.
He proudly shows me the long aisles - full of Polish drinks, pickles, processed food and cheeses - and says people travel from far afield to shop there, especially for its huge range of Polish sausages.
He tells me many of his friends have applied for British citizenship, and that he is thinking of doing the same too - in the hope it makes travelling easier.
If he does get a British passport, he explains, he will be certain to vote in every election: "At the end of the day, if you live in a country, you should really show some commitment. I think that's what voting is."
A survey of Poles in the UK last year, conducted by Ipsos Mori and the Polish City Club, found that 40% of Polish migrants would like to gain UK citizenship - with 72% saying they wish to stay "permanently" in the UK.
If more Poles are seeking citizenship and the right to vote this could affect constituencies around the country, and in particular across the capital. According to the 2011 census, the constituencies with the biggest Polish populations are the London seats of Ealing North, with 8.5%, and Ealing Central, with 6.5%.
Elsewhere, 6% of the population in the Slough constituency are Polish, with 5.5% in Luton South.
Not all these seats have the potential to change hands come May, but back in Southampton Itchen the Polish vote could be to the benefit of Labour.
At a Southampton primary school I meet Polish parents, picking up their children. Most don't want to be interviewed, but some say they do have British citizenship and are thinking of voting in the general election.
One woman tells me she and her husband intend to vote Labour, because they feel the party is "friendly" towards immigrants.
She says some of her friends believe Britain is becoming a worse place for Poles, but are reluctant to vote. She has urged them to register. "This is our life here," she explains.
It's expected that two Polish-born candidates will stand in Southampton at May's local elections, both for Labour.
Many of the Poles I meet see this as somewhat ironic, saying that many of their compatriots who have moved to Britain are instinctively conservative - hard-working, entrepreneurial and reluctant to claim unemployment benefit.
However, they believe that Poles would vote against the Conservative party, because of its stance on immigrants' access to benefits - and because of the possible EU referendum.
Of course, the potential Polish vote is dwarfed by the British-born one. And many in Southampton are angry about the rising immigration of recent years.
One business owner in the constituency told me: "They're just letting more and more people into the country and draining the system. People that are actually here are being pushed aside."
Przemyslav Tryc hopes that as more Poles get British citizenship, so they will organise. One day, he tells me, they could be a "considerable" political force in the country.
"Who knows?" he adds. "In the future there might even be Polish MPs."
The Today programme is broadcast on BBC Radio 4, weekdays from 06:00-09:00 GMT and Saturdays from 07:00-09:00 GMT.