Labour would protect education funding - Miliband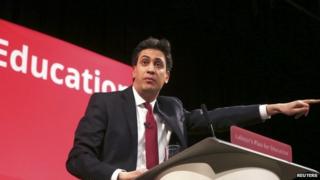 Labour would increase spending on education by at least the rate of inflation, leader Ed Miliband has said.
The Labour leader made the announcement that the Department for Education's £58bn budget would be protected during a speech at his old secondary school.
Mr Miliband also outlined plans to stop infant classes having more than 30 pupils in them for longer than a year.
The Conservatives said his policy did not add up to much and, on class sizes, "had collapsed within minutes".
David Cameron has already promised to protect England's schools budget in cash terms, although funding per pupil would not automatically keep up if there was inflation.
And a Conservative spokesman said on class sizes: 'Primary school class sizes are already capped at 30 - are Labour saying they will scrap sensible exceptions like those that ensure Armed Forces children get a place at primary school, or ensure that twins aren't forced apart?
"This incompetence and chaos shows exactly why Ed Miliband is simply not up to the job."
Meanwhile, Liberal Democrat Schools Minister David Laws said Labour's plans would be funded by "excessive and reckless borrowing", with children having to "pick up the tab" in later life.
"The £4bn that Labour would waste on debt interest payments would be better spent on schools," he said.
The Lib Dems are pledging to protect school budgets in real terms as well as early years support, with education to feature as one of the party's top five priorities for it general election manifesto.
Surplus of places
During a visit to his old secondary school in North London, Mr Miliband said that if Labour formed the next government, it would more strictly enforce a cap on class sizes for five, six and seven year olds.
Schools with class sizes of more than 30 would be given 12 months to reduce numbers, by hiring additional teachers if necessary, with the money to pay for it coming from the free schools budget.
---
Analysis, by Education Reporter Hannah Richardson
All state schools in England have had to recognise a statutory limit of 30 pupils in their infant classes since 1998.
One of the first measures of Tony Blair's government, the rule aimed to keep class sizes at a manageable level for teachers in the key early years of school.
But the number of exemptions to the rule has grown, and now schools can have to admit children of armed forces personnel, care-leavers, and those with special needs who require a place part-way through the year as well as twins and those who have won a place on appeal.
There is also a requirement for schools to accommodate children arriving in the middle of the year who cannot get a place at any suitable school close enough to their home.
It is this exemption, and the canny use of appeals by parents seeking a school place, that is evidence of the very real population pressures in England's infant class sizes.
And with the squeeze on primary places one of the biggest issues facing schools in the next few years, the number of extra pupils who slip into larger infant classes is likely to grow.
---
Mr Miliband claimed that if current trends were maintained, the number of classes in excess of 30 was set to reach 11,000.
Although state schools are still routinely expected not to place more than 30 infants in the same class, the rules have been relaxed in recent years.
Schools are allowed to waive the limit when families move to an area mid-year and no other places can be found near them; if the parents have won a place after an appeal or if a child is admitted because of their special educational needs. Schools can also relax the rule to let in twins or children of members of the armed forces.
In most cases, class-sizes are lawfully expanded because of appeal decisions or because schools admit pupils who have moved into their area outside of the usual admissions round.
According to the most recent figures, from June last year, 4.2% of infant classes were over the maximum limit, up from 3.7% in 2013.
Mr Miliband suggested the government's support for free schools - state-funded schools outside local authority control - had made the situation worse, due to the number of new schools opening in areas where there were already a surplus of places.
Labour says it will block new free schools in areas where there is already adequate provision while ensuring over-subscribed schools can expand their intake.
Under the party's plans, every school will be "locally accountable" to a new director of standards, an idea first proposed by former education secretary David Blunkett last year, while all head teachers will be given the freedoms currently available to those running academies.
Labour would also look to attract many of the 200,000 qualified teachers who have left the profession in recent years back into schools while also bringing in compulsory work experience for all young people between 14 and 16 and guarantee all children in state schools two hours of organised sport a week.
At an event to highlight the Lib Dems' manifesto priorities, Nick Clegg will say that the progress made in schools standards since 2010 "cannot be taken for granted".
If they remain in government after May's general election, the Lib Dems will protect spending from "nursery to college", guaranteeing a real-terms increase in spending per pupil.
David Cameron has promised a future Conservative government would protect England's schools budget in cash terms and allocate a further £7bn for school places although per pupil funding would not keep pace with inflation.