Cameron vow to plug £1bn 'finance gap' to help firms grow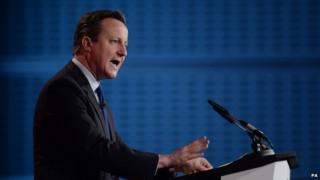 David Cameron has said a future Tory government will help 500 of the UK's fastest-growing companies to expand, by guaranteeing business loans.
The prime minister said this would prevent successful companies trying to grow from falling into the financial "valley of death".
The Help to Grow scheme would see the government use its balance sheet to underwrite private loans or co-invest.
Labour said the government had failed to get banks lending to small business.
The Conservatives, Labour and the Lib Dems have been setting out their plans for enterprise and industry, at the annual conference of the British Chambers of Commerce.
'Finance gap'
In his speech, Mr Cameron said the UK was enjoying its strongest economic growth for seven years, with optimism among business owners and consumers rising.
Despite this, he said, fast-growing companies were still struggling to attract the finance they needed to enable them to move to the next stage of development.
Mr Cameron said the British Business Bank set up by the coalition in 2011, designed to unlock finance for small companies, had estimated there was an annual £1bn funding gap to be plugged.
"So that is... £1bn of opportunities that is lost, £1bn of new investment missed," he said.
"We will plug this £1bn gap by using the government's balance sheet to guarantee loans by private lenders, or by co-investing public money alongside private money.
"Our ambition is to help 500 of our fastest growing firms annually - giving entrepreneurs the kind of finance their German equivalents still get."
'Chronic handicap'
The British Chambers of Commerce, which represents thousands of small and medium-sized firms, has warned that the UK's "inadequate" system of business finance stands in the way of the UK being "a truly great economy".
Its director general, John Longworth, said business investment in the UK had lagged behind Germany for nearly 150 years and suggested the City was not doing enough to support businesses' long-term growth ambitions.
Without access to finance at crucial stages, he said, highly promising businesses would continue to fold or find themselves having to sell out to foreign multinationals.
"Businesses need to be confident that working capital is available if they are to take on new orders, fulfil them and grow - and not fear going bust at the very moment of expansion," he said.
"It is a chronic handicap at the very heart of our economy - and one that has been made worse by the great recession we have just experienced.
"Only if we fix our business finance system will we have a British, homegrown, Microsoft, Google, Samsung, Miele, Siemens, L'Oreal or Tata in the years ahead."
German model
Mr Cameron's plan is based on the Mittlestand business model long established in Germany, which supports millions of middle-sized, privately owned companies forming the backbone of the economy, many of them in the manufacturing sector.
They typically invest a high proportion of their profits into research and development, while Germany's more decentralised business and political culture gives them access to wider sources of funding, often of a regional origin.
Also speaking at Tuesday's event, Deputy Prime Minister Nick Clegg said the UK needed to "build on" the achievements of the Business Bank and "couple that with ensuring that the commercial banking sector does what it says it wants to do, which is to increase lending to the British business sector, particularly start-up companies and SMEs [small and medium-sized enterprises]".
Shadow business secretary Chuka Umunna said the government had opposed Labour's plan for a British Investment Bank, underpinned by a regional banking network.
"This is yet another announcement from a prime minister who has failed to get the banks lending to our small businesses," he said.
"Government scheme after government scheme, from Project Merlin to Funding for Lending, has failed. And net lending to small and medium-sized businesses fell by £1bn in the last quarter."