Labour to double paid paternity leave to four weeks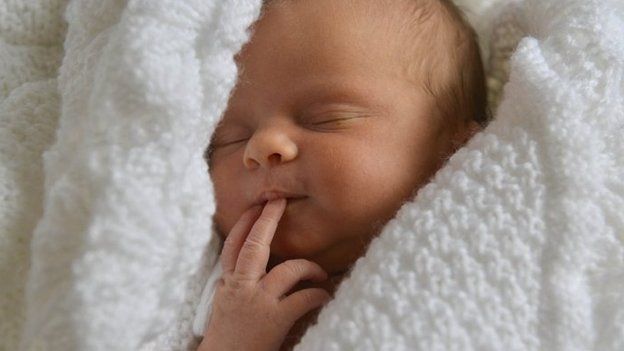 A future Labour government would double the amount of paid paternity leave available to new fathers from two to four weeks, Ed Miliband has announced.
The Labour leader has also pledged to increase statutory paternity pay by more than £120 a week to £260 a week, paid for by savings in tax credits.
Some business leaders have said the £150m move amounts to a business "tax".
A new system of shared parental leave championed by the Liberal Democrats comes into force in April.
The Lib Dems are also proposing, in future, a month's worth of paternity leave after a child's birth on a "use it or lose it" basis.
The Conservatives have supported greater flexibility in parental leave, arguing that all future spending policies need to pass a "families test".
Since 2003, new fathers have been entitled to two weeks' paid leave if they meet certain criteria, such as having worked for their employer for a defined length of time.
But Labour says only about 55% of new fathers take the full two weeks off because of financial pressures forcing them to return to work.
Ed Miliband said current entitlements are "outdated" and giving fathers an "independent right" to a month off to care for their children would help 400,000 families give their children the "best start in life they can".
The Labour leader has pledged to substantially increase rates of statutory pay, currently set at £138.18 per week or 90% of average weekly earnings, whichever is less.
Under Labour, the amount fathers would receive would rise to at least £260 a week, the equivalent of a forty-hour week on the minimum wage.
"At the same time as women are under pressure in their careers, more fathers want to play a hands-on role in childcare, particularly in those first crucial weeks of a child's life," Mr Miliband will say in a speech on Monday.
"Thanks to the last Labour government, fathers have two weeks' paid paternity leave. Millions of families have benefited with parents saying this has helped them support each other, share caring responsibilities and bond with their children.
"But the money isn't great and too many Dads don't take up their rights because they feel they have to go back so they can provide for their family."
The opposition says the move will be funded by a reduction in the amount of tax credits paid out to working families of three and four year olds as they take advantage of a planned increase in state-funded childcare from 15 to 25 hours a week.
Research from the IPPR think tank, cited by Labour, suggests offering four weeks paid paternity leave will cost £150m a year, assuming take-up rises from 55% to 70%.
The policy announcement has encountered criticism from some business leaders, with the British Chambers of Commerce saying it amounts to a "tax on business".
Director general John Longworth said: "Although well-meaning, proposals such as this create very real costs for businesses, which can in turn lead to reduced productivity, reduced growth and fewer jobs.
"Businesses have already had to absorb over half a dozen changes to parental leave in the last decade - with one, shared parental leave, not even fully in place yet. This constant instability raises costs for business and generates uncertainty when it comes to taking on new staff."
The national chairman of the Federation of Small Businesses, John Allan, said: "It's important political parties understand the practical implications of policy changes.
"The reality is that for small businesses in particular, extending paternity leave from two to four weeks makes it much more likely that they will have to buy in replacement staff as they will struggle with absences."
Shadow work and pensions secretary Rachel Reeves contended that "this is exactly what used to be said about maternity leave".
She told BBC Radio 4's Today programme the expansion of paternity leave would be paid for by government, not business, and that "good business" would welcome the changes.
Labour says research by the House of Commons library indicates a fall in existing government spending on tax credits, to pay for childcare, will raise "significantly more than £150m", more than covering the cost of the initiative.
Elizabeth Duff, senior policy adviser at the National Childbirth Trust, said: "As well as the difference it will make for mums, the more that dads are able to engage with their baby in the early days the better their bond will be, so we want to see all political parties committing to policies like this that will give fathers more time with their new families."
Mr Miliband said the government's proposed system of shared parental leave, which will allow a couple to divide up 50 weeks of leave between them and 37 weeks of shared statutory pay - at existing levels - from this April will have limited appeal.
In a speech on Tuesday, Deputy Prime Minister Nick Clegg will urge new parents to "embrace" the flexibility offered by the new arrangements, in which parents will be free to split their leave in three separate blocks instead of taking it all in one go.
He will say this is part of a package of measures which could help to get a million more women into the workforce by 2020.
"My challenge to you is to embrace change. Embrace shared parental leave. Embrace flexible working. Close the gender pay gap," he will say.
"We need to think big. We need to do things differently. But, as any successful entrepreneur knows, that is exactly what it takes to succeed."