Lobbying register will have few applicants, registrar predicts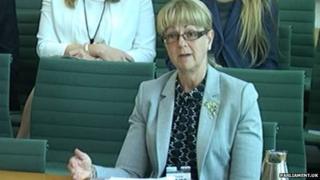 The woman in charge of the government's new register of lobbyists says she expects "quite a low level" of applicants when it opens in March.
Alison White told the BBC the new law had been "very narrowly drafted".
Critics say the register, a coalition government pledge, is not fit for purpose as it excludes many of those who are working as lobbyists.
Ms White said she was responsible for implementing the new rules and her own views on it were "entirely irrelevant".
Lobbyists are firms or individuals paid to influence government decisions.
People and organisations have been asked to express an interest in joining the register, which ministers have said will help clean up politics.
Before the last election, Prime Minister David Cameron said lobbying was "the next big scandal waiting to happen" and the coalition pledged to introduce a statutory register of lobbyists when it came to power in 2010.
In-house companies
The Transparency of Lobbying, Non-Party Campaigning and Trade Union Administration Act became law last year, and Ms White, who is independent of the government, was appointed as the Registrar of Consultant Lobbyists in September.
She recently published the first guidelines on who would be required to register.
Specifically excluded are lobbyists working "in-house" for companies, which Ms White said would mean somebody working for a tobacco firm would not have to register if they were carrying out lobbying activity.
A person or company will only need to be registered if they are contacting a government minister or permanent secretary - the top civil servant in a government department.
"I am told that a lot of lobbying goes on that doesn't involve ministers or permanent secretaries," Ms White said.
She said she was trying to clear up "ambiguities" in the legislation by publishing guidelines.
"I have been trying to Hoover up all the questions that were asked," she said, adding she was not surprised "that everyone's been getting a bit impatient".
She said the cost of joining the register, which has yet to be announced, was an issue for the government and she would not be making a recommendation.
Tamasin Cave, of the Alliance for Lobbying Transparency, an organisation which campaigns for more regulation of the industry, said Ms White had been "sold a dud" by the government because the definition of lobbyists was so narrow.
"The regime as introduced by the government was a sham," she added.