Risks of government schools strategy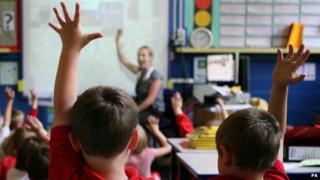 Nicky Morgan, England's education secretary has proposed that we should raise the difficulty of tests sat by primary school pupils, and expect schools to keep up.
Under a Tory government, schools that fail them would have leadership changes, possibly including takeover by another (more successful) school or an educational charity.
Similarly, we learn today, a swathe of other schools - any rated "requires improvement" by the inspectors - could join them. That's about 3,500 schools, and that is a category that was until recently called "satisfactory".
This is an interesting moment to consider an idea that has been big in England for about 25 years: it's called "New Public Management". It's an idea that's ubiquitous across the country's public services, but is very little discussed these days.
In short: we use targets to improve outcomes, we outsource where direct state provision is struggling and we encourage competition between institutions to drive up performance. It's an attempt to use hard, defined objectives to make things better.
'Terror and targets'
It would be hard to argue England's schools and hospitals are not better than they were before what have been dubbed "terror and targets". But while this style of management is good at forcing institutions to use unrealised potential, it can lead to problems if you aren't careful.
That is because its practitioners in Britain treat too many problems as management problems. They often think "If we can only harden the rules or find the right person to run this with the right incentives, we will fix the problem." That is often untrue.
I think we are starting to see that in schools.
First, there is already a head teacher recruitment problem. Schools are vulnerable ecosystems that drift into trouble easily, even if only briefly. If that happens during an inspection or in exam season, even great heads with years of real success can face the axe.
Increasing pressure on them will make that recruitment struggle worse by making the job even less desirable.
Second, the process of having schools taken over by other schools or charities - making them a "sponsor academy", in the jargon - is not foolproof. The best school chains aren't big, and don't want to grow fast. So there aren't enough groups available to improve schools through takeover.
If you outsource a load more to the chains more quickly, the existing chains may just start to slump.
Third, making primaries into academies will further increase work for the Department for Education, which will take on the supervisory role previously occupied by those schools' local authorities. It has not been coping well with the task as it stands.
If you make more sponsor academies very fast, you will exacerbate the problem.
Management first
In short, it is hard to argue that league tables and sponsored academies haven't worked, given what we know. But you can't project that forwards ad infinitum. We are already flogging the horse pretty hard. It may just not go faster unless we fix a few other things first.
To be fair, there are solutions to some of this in train: the government has already put some cash into building school chains up and it has introduced "regional school commissioners," eight local viceroys who may help the department meet its obligations.
But there are other things that require careful thought. In some schools, the inability to get good teachers is the core of their problems. The education and aspiration of parents varies wildly from school to school and from town to town. There are problems that determination alone cannot crack at current funding levels, important though it is to keep teachers focussed.
This "management-first" way of thinking goes beyond schools. The Department of Health folklore talks about how it is always the same hospitals in trouble. So they change leadership a lot, but there's just not enough thought about why some places never get any better, even over decades.
There's good evidence that New Public Management has done good for pupils and patients. But, in some policy areas, the returns on it may well diminish if it is our only strategy.