Aid spending target should stay, says Commons committee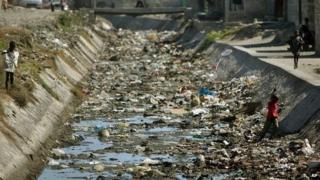 A spending target for UK international aid must stay, despite a reduction in the number of low-income countries, a Commons committee has said.
Some MPs had argued that the amount the UK spends on aid for countries which were getting richer could be cut.
However, the International Development Committee said the budget should stay fixed at 0.7% of national income.
The amount spent on aid "remains vital" because the poorest countries were facing growing challenges, it added.
'Co-operation'
Some middle-income nations also still require aid as large swathes of their populations remain classed as among the world's poor, it said.
But it said that giving money to countries should not in itself be the only solution for trying to raise living standards in poorer parts of the world.
It said the government must also endorse "new forms of co-operation" to "facilitate links with UK institutions in a wide range of areas, including health, education, law, culture and science".
Committee chairman Sir Malcolm Bruce said: "Aid remains essential in our modern world, to respond at times of crisis, and to help the poorest people in the poorest countries build sustainable livelihoods."
In the past the committee has recommended that loans rather than grants should be given to all but the poorest countries "wherever feasible".
However, Sir Malcolm said some UK development aid should still be given to middle-income countries such as India, China, and Brazil.
"Rich and poor countries together must face up to big global challenges like climate change or disease epidemics that have the potential to impact on us all - and these require not just money but new forms of co-operation," he said.
Conservative Party backbenchers have previously opposed plans to enshrine the 0.7% target into law, raising concerns about how it is used and the dent it makes in domestic government spending.
In December a group of Conservative rebels tried to "talk out" a Lib Den proposal to enshrine the 0.7% target in law, which was supported by both front benches.
A Department for International Development (DfID) spokeswoman said the committee was "absolutely right" to identify that there were many things beyond traditional financial aid that drove development and helped reduce poverty.
She added: "The DfID needs to work more effectively across Whitehall, including through the National Security Council, to meet the complex challenges of disease outbreaks, climate change and conflict prevention."
But Mary Creagh, shadow international development secretary, said the committee's report outlined the weaknesses in the government's approach to international development, which "led to a slow response to the Ebola outbreak".
John O'Connell, director of the Taxpayers' Alliance campaign group, said: "Lazy gimmicks like ring-fencing the development aid budget at hard-pressed taxpayers' expense simply do not address the complex challenges facing the world's poorest."