Abuse victims identified on select committee website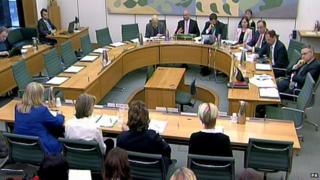 Four survivors of child sex abuse say they have received more threats and online abuse after MPs inadvertently published their details online.
Their names were placed on the Home Affairs Committee website, but removed the next day after they complained.
The document appeared among papers the committee released as part of its probe into how the Home Office has handled the issue of historical child abuse.
It was supplied by a member of the government-appointed abuse probe panel.
But in a statement, the panel said the document was supplied "without permission or knowledge" of seven of the eight members or the inquiry secretariat.
In a letter to Home Secretary Theresa May, the victims said they had been left feeling vulnerable and exposed.
They added that views expressed in the documents by some of the panel members had added to their distress.
BBC home affairs correspondent Tom Symonds said the row is the latest confrontation in a split between the groups preparing to take part in the abuse inquiry.
The home secretary is preparing to announce a new chairman, and the entire format of the inquiry could be reformatted.
The names and contact details of victims were released online last week.
Several of those named are active on social media but the material also referred to a woman who is not.
The Home Affairs Committee said: "The material included directions to panel members about how they should answer questions from the committee, as well as email exchanges between panel members about the panel's external communications strategy.
"These emails included the names of third parties who were not members of the panel.
"At the request of the individuals concerned, and of the panel secretariat, the material has been redacted to remove references to these individuals."