UKIP set to include defence boost in election battle plan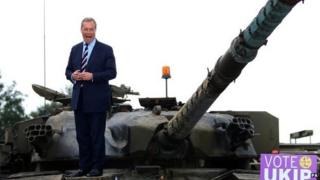 UKIP is likely to go in to the general election campaign promising to spend more on defence. The move could mean the threat of another internal row over policy.
Some may fear a commitment to increase spending would mean what they see as much-needed reform of the procurement process would be less likely to happen.
The party has made defence and the armed forces in particular a key part of its fledgling manifesto.
If it comes to power, UKIP has already pledged to give priority over social housing to ex-servicemen and women, and to guarantee them a job in the police, Prison Service or Border Force.
It has also promised a new Veteran's Administration "to look after those who looked after us".
But I understand that senior figures involved in writing the election manifesto are considering an increase in spending.
That would make UKIP the only one of four Westminster-based national parties likely to promise more, after a period of sustained defence cuts.
Internal tensions
The budget for defence spending this year is £36.43bn. It fell faster than in any other department between 2011 and 2013, according to the Office for National Statistics.
Although UKIP wants to see a dramatic reduction in government spending and a much smaller state, senior figures in the party have made it clear that defence spending is the only area off the table.
The prospect of promising to spend more may trouble Douglas Carswell.
UKIP's first elected MP told the BBC that he wants to "see reform in defence procurement" in particular.
In an interview last month he said the money should be spent "more intelligently and more wisely".
I asked him if he thinks UKIP should demand cuts to the MoD budget? "More bang for our buck" was his response.
Would he be happy to see a real terms rise in military spending? "Let's have some reform to make sure we get better outcomes," was his answer.
The party's most recent policy on defence was confusing.
Published in 2013, it stated that the defence budget was "adequate". But it then went on to contradict itself, by saying that under a UKIP government, "the UK defence budget will be restored to 2010 levels".
At the last election UKIP pledged to expand the Army and the Royal Navy. It is not clear if that is what the party is likely to do this time.
Senior figures in the party continue to deny that the MEP and election candidate, Tim Aker, was sacked from his role as policy chief after failing to make adequate progress.
Several insist that he simply had too much work and wanted to concentrate on trying to become the next MP for Thurrock.
Manifesto plans
Deputy Chairman Suzanne Evans is now in charge of policy and writing the manifesto.
I am told that Friday is a key day in that process, with the respective spokesmen and women making their final policy submissions, to be costed and approved - or rejected.
That gives the party eight weeks to complete the manifesto.
Between now and then, the party leader Nigel Farage will embark on a series of set-piece speeches. Each will focus on a specific area, with immigration a key one.
The first, in two weeks' time, is expected to focus on why people should vote UKIP.
That will come as the party's new millionaire donor Arron Banks moves into the party's HQ in London.
Mr Banks' £1m donation last autumn is helping to fund internal polling and phone canvassing in their target seats.
Once he bases himself at the Mayfair office, he will be working alongside Douglas Carswell and Nigel Farage as they plough campaigning efforts into around 30 seats.