Maximum benefit fraud fines could be increased to £5,000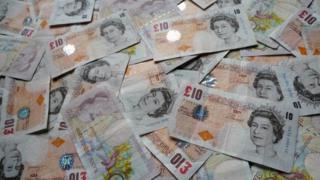 The maximum administrative penalty for benefit fraud that can be offered as an alternative to prosecution could be doubled under government proposals.
The House of Commons will be asked to approve plans to increase the maximum fine from £2,000 to £5,000.
The government says £1.2bn a year is lost to benefit fraud, and that those who commit the crime should "pay a heavy price".
If approved the changes would take effect from 1 April 2015.
The higher penalty would be levied on top of the recovery of money falsely claimed, and a four week loss of benefits.
It would not apply in cases of genuine mistakes or error, the government says.
While those suspected of the most serious offences of benefit fraud would continue to face prosecution, ministers want enforcement agencies to have greater flexibility to deal with the problem.
Work and Pensions Minister Mark Harper said: "There are still too many people who continue to ignore the warnings and steal from the benefits system.
"They deserve to pay a heavy price for doing so and that is why we are taking action."
The minister said he hoped there would be "widespread support" in the House of Commons for the proposed changes.
Money lost to benefit fraud could instead be spent on "supporting those in genuine need, improving public services or reducing people's taxes", he said.
The changes - embodied in the draft Social Security (Penalty and Alternative to Prosecution) (Maximum Amount) Order 2015 - are due to be debated by MPs on Thursday.
Labour is supporting the increase in fines but said the government should do more to crack down on welfare fraud and waste.
"David Cameron's government has failed to reduce the amount of taxpayers' money lost to error and fraud in the benefits system. Since 2010 it has increased by £200m," said Helen Goodman, shadow minister for welfare reform.