Ed Miliband and David Cameron step up election battle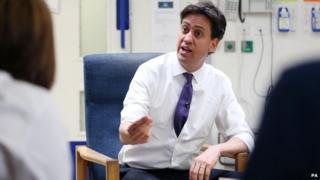 Ed Miliband has set out Labour's "10-year plan" for the NHS including longer home visits by social care workers as the parties step up their campaigning 100 days before the general election.
The Labour leader has pledged new safety checks to identify people at risk of hospitalisation and to recruit 5,000 new home care workers.
Meanwhile David Cameron has outlined plans to cut the benefits cap to pay for more apprenticeships.
The cap "encouraged work", he said.
In other political developments:
In a BBC interview, Mr Cameron hinted that pensioner benefits may continue to be protected from further welfare savings mooted for after the election.
Former Labour health secretary Alan Milburn warned his party against running a "pale imitation" of its 1992 election campaign
Sinn Fein says it is consulting lawyers about being excluded from plans for general election TV debates
All of the major Westminster parties have pledged what they say is enough money to maintain NHS services in the next Parliament.
The Conservatives say they would ring-fence and "protect" the NHS budget while the Liberal Democrats have promised to meet "in full" the £8bn extra NHS managers say is needed by 2020 while UKIP has said it would commit an extra £3bn a year to the service.
Labour has promised to keep the NHS ring-fence and spend an extra £2.5bn a year across the UK by 2020.
---
Analysis by health correspondent Nick Triggle
The problem facing the NHS is clear for all to see.
Over the last 60 years the focus has shifted from curing illness, such as infectious diseases, to managing long-term illnesses, like dementia, for which there are no cures.
That requires much more joined-up working in the community to keep people well, particularly supporting them in their own homes.
To achieve that Labour is talking about "resetting" the NHS and creating joint budgets with England's councils, which are in charge of care services. It has echoes of what has already been done in Northern Ireland and is being rolled out in Scotland.
But the challenge is that people pay for their care - many the whole bill. How that system can be combined with the free-at-the-point-of-need NHS is a major challenge.
---
In a speech in Trafford, Greater Manchester, Mr Miliband said David Cameron had "totally betrayed" promises made on the NHS before the last election and "the country's most precious institution faced its most perilous moment in a generation".
"David Cameron says he cares about the NHS but that is not enough. What tuition fees is for Nick Clegg, the NHS has become for David Cameron. It has become a question of trust."
Under a Labour government, Mr Miliband said 5,000 extra home care workers would be recruited to treat terminally ill people in their own beds and social care workers would be helped to spend more than 15 minutes on home visits.
Limiting visits to 15 minutes was "a symbol of what has gone wrong in the NHS where failure and false economies threaten the financial future of the service", he said.
Promising to tackle what he said was an "iron curtain" between social and clinical care, he said care workers often had to choose between preparing a meal for people they were visiting or taking them to the toilet because of time constraints.
"We have got to join up services at every stage for home to hospital so people can get the care they need when they need it," he said.
---
Analysis by political correspondent Robin Brant
This was not a tough crowd for Ed Miliband. He spoke about "creeping privatisation" in the NHS as he outlined Labour's 10-year plan to rescue, as he put it, a "precious" health service. Then he went further. He appeared to attack privatisation overall.
He said legislation under the coalition made the model for NHS reform the privatisation of utilities in the 1980s, saying "we kind of know where that got us don't we?" He may have meant the electricity providers, firms that he has repeatedly attacked, but he wasn't specific. So he appeared to be condemning what's happened at British Airways, British Telecom and a host of others firms.
And for the record he told me he doesn't use private healthcare and has never used private healthcare.
---
The party, which has already announced plans to recruit 20,000 more nurses and provide cancer tests and results within a week, is putting the NHS at the heart of its campaign.
But Mr Cameron attacked Labour's record of running the health service in Wales, saying waiting lists had gone up and problems at A&E had multiplied.
"I think we need to look at Labour's record rather than its rhetoric," he said.
"I'm satisfied that we are putting the money into the NHS. Yes, we need to do better on A&E, but let's not forget that.... we have almost abolished mixed-sex wards, hospital-acquired infections are down by more than half, we are treating something like six million more outpatients every year."
And former Labour health secretary Alan Milburn has questioned the opposition's focus on the NHS as a "comfort zone campaign" and warned the party is ill-prepared to carry out the necessary reforms to the NHS if elected.
"Labour is not a conservative party. Labour should be about moving things forward not preserving them in aspic," he told Radio 4's World at One programme..
UKIP deputy chair Suzanne Evans said the NHS was "creaking at the seams" and needed "a serious injection of cash to help sort out the mess both Labour and the Tories have got it into".
Benefit plans
Mr Cameron has focused on the economy, promising a law to reduce the annual household welfare cap to £23,000 from the current £26,000 in the first week of a Conservative government.
Mr Cameron told the BBC that reforming the welfare system was the "best way to tackle poverty and spread advantage".
He said: "The criticism of our benefit cap, which was set at £26,000, in many parts of the country was that it was too high.
"So we think that reducing it to £23,000 will help to get more families back into work and we'll use the savings from that money to make sure we train three million apprentices in the next Parliament."
After launching an online advertisement attacking both the Conservatives and Labour, Lib Dem leader Nick Clegg said Britain "needs a liberal voice in government".
"You have got the Conservatives haring off to the right now saying they are going to cut, cut, cut, way beyond what's necessary, you've got Labour saying they are going to borrow more money than is necessary," he said.
"The Lib Dems will cut less than the Conservatives and borrow less than Labour, because that's the way.... you create a stronger economy and a fairer society."