Defector brands UKIP 'vanity project' for Nigel Farage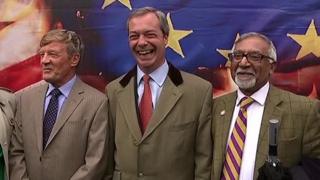 An MEP who defected from UKIP to the Conservatives has branded his old party a "vanity project" for its leader Nigel Farage, who runs it "like a dictator".
Amjad Bashir said Mr Farage was using UKIP "as a means for getting power".
Shortly before Mr Bashir announced his defection on Saturday, his former party said he had been suspended over various allegations - all of which he denies.
Meanwhile, Labour has released footage of a UKIP official calling the NHS the "biggest waste of money" in the UK.
Mr Bashir was elected as a UKIP MEP for Yorkshire and the Humber last year, and was also the party's communities spokesman.
'Crude attempt'
Formerly a Tory, he became involved with UKIP three years ago, but met David Cameron on Friday to discuss his defection. Mr Cameron said he was "delighted" Mr Bashir was rejoining the Tories.
But before the defection was announced, UKIP suspended Mr Bashir and said he was being investigated for matters including "unanswered financial and employment questions" and "interference" with candidate selection processes.
Writing in the Mail on Sunday, Mr Bashir said his suspension was a "crude attempt" to discredit him.
"There is not a shred of truth in any of the claims but it has made me more convinced than ever that I made the right decision," he said.
He said he had joined UKIP because he wanted a referendum on Britain's membership of the European Union, and better controls on immigration.
But he said he now had "no doubt" that Mr Cameron would deliver this, so UKIP "has outlived its usefulness".
On Mr Farage, he said: "He runs the party like a dictator, employs people who are totally inappropriate for party positions and gets rid of anybody who stands in his way."
Mr Bashir also said he had experienced racism within UKIP, and criticised the "appalling" behaviour of its MEPs, who "make childish remarks during debates and are abusive towards MEPs from other countries".
'Reichstag bunker'
In a separate development, Labour has published footage of UKIP's party secretary Matthew Richardson describing the NHS as the "Reichstag bunker of socialism".
In various clips, which Labour says were filmed at a 2010 conference in the US, Mr Richardson described "socialised healthcare" as "dangerous" and "very, very hard to get rid of".
"The biggest waste of money in the whole United Kingdom is of course the NHS," he added.
At that time Mr Richardson was executive director of the Young Britons' Foundation, which "promotes conservatism" and trains activists, then "places philosophically sound conservatives in full-time jobs and work experience in the City, the professions, business, the media, academia and politics".
Speaking about the Mr Richardson's comments, Labour's Jon Trickett said: "Either Nigel Farage supports this or Mr Richardson cannot stay in post.
"Nigel Farage cannot simultaneously defend these comments and claim that his party stands for the NHS free at the point of use."
Mr Trickett said the comments revealed "UKIP's real agenda on the NHS", which he said was to "dismantle its foundations".
A UKIP spokesman said Mr Richardson was being critical of NHS management rather than the institution.
Last week Mr Farage said his desire to replace the NHS with an insurance-based system, like that used in many other countries, had been rejected by his party - so UKIP policy remains in favour of a tax-funded NHS, free at the point of use.
But Mr Farage told the BBC "this is a debate that we're all going to have to return to" as demand for healthcare increased because of Britain's ageing population.