Election 2015: Debates could go ahead without PM says Grade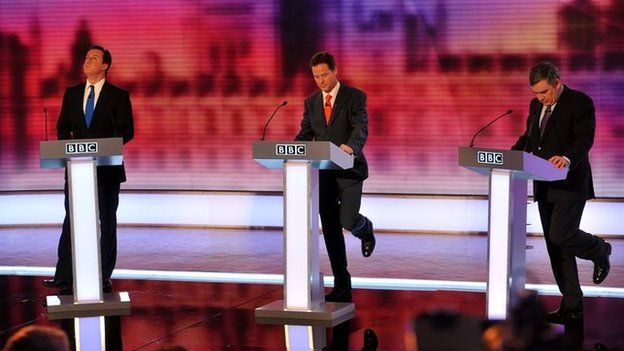 Televised election debates could go ahead without David Cameron, a former head of the BBC and ITV has said.
Lord Grade said no single leader could have a veto on the process in light of Mr Cameron's refusal to take part unless the Green Party is included.
Replacing the PM with an empty chair would be a "step too far" as it would breach impartiality rules, he said.
But he suggested debates could proceed if a "principled" statement was read out in advance explaining his absence
Mr Cameron has raised a number of objections to proposals put forward by a group of broadcasters for three debates during the general election campaign in April.
Most notably, he has argued that Green Party leader Natalie Bennett should feature, claiming it is wrong to include UKIP leader Nigel Farage in one of the debates but not "other national parties".
At the moment, ITV is proposing a four-way debate involving Mr Cameron, Labour leader Ed Miliband, Lib Dem leader Nick Clegg and Mr Farage as one of three suggested formats.
Speaking in the House of Lords, Lord Grade - a former chairman of the BBC and ITV - said he understood Mr Cameron's position and it was up to the other party leaders to explain "in democratic fashion" why the Greens should be excluded.
"If they drop their principled objections we can get on and the public can have the debates they expect to have," he said.
But he insisted Mr Cameron's possible absence should not be a bar on the debates going ahead.
"I agree with most people who would say that no individual leader of any party should have the right to veto a debate."
However, he warned broadcasters against substituting an empty chair for the prime minister, as Mr Miliband, Mr Clegg and Mr Farage have suggested, saying this would not be defensible under broadcasting regulations.
"If I'm asked whether we should put in an empty chair if a senior member of one of the leading parties was not prepared to attend, I would regard that, without having to consult m'learned friends, as a breach of the statutory obligations on impartiality.
"It is unquestionably in my view editorially a political statement. Reading a principled statement from the absent party explaining why they don't want to take part seems to me to cover the part."
The three election debates in 2010, the first held in the UK, were watched by 22 million people.