Conservatives reject call to remove campaign video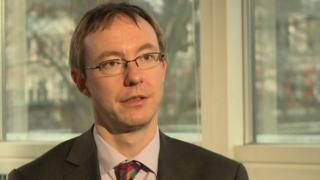 The Conservatives have said they will not take down an online campaign video after the head of the Institute for Fiscal Studies, whose voice features in it, called for it to be removed.
The video includes audio recordings of Paul Johnson seemingly criticising the Labour Party's fiscal plans.
But Mr Johnson told the BBC his quotes had not been put in context.
A Tory party spokesman said Mr Johnson had been "clear" that Labour's plan meant "higher borrowing and more debt".
The clips in question came from a previous BBC radio interview in which Mr Johnson, the head of the think-tank, analysed the "stark contrast" in the proposed spending plans of the Conservative Party and Labour.
In the recordings, featured in a video on the Tories' YouTube channel, he is quoted as saying "borrowing would be higher under a Labour government... the debt would be higher.... you've got more risk with the public finances".
---
Tom Edgington, World at One
According to Newsweek magazine, he is the mild mannered nerd who might decide the election.
Any political party would therefore be extremely brave to risk the ire of the Institute for Fiscal Studies and its director.
Highly revered within the Westminster village, the economic think tank has an almost unimpeachable reputation when it comes to independent economic judgements.
It is not unusual for politicians to selectively quote from the IFS. Lines from numerous reports can regularly be heard being flung from both despatch boxes in Parliament. What makes this different though is the decision of the think tank to publicly wade in and call for the removal of a campaigning video.
This, perhaps, underlines that with an election just months away, how important it is for the IFS to fend off any suggestion its independence could be compromised.
---
Speaking to BBC Radio 4's World at One earlier on Wednesday, Mr Johnson said the quotes were made up of "small clips from a much broader and obviously much more balanced interview that I gave".
The IFS director said it was a "shame when words are taken in a particular context".
He also said he "was a bit surprised and wasn't given any warning" that his voice would feature in the advert.
Asked whether he would like the video taken off YouTube, Mr Johnson said: "Yes I would like it removed," - but added that he found the film "quite funny".
'Let voters decide'
Anna Soubry, a junior Conservative defence minister who was also on the programme, said she would raise the matter with Tory party chairman Grant Shapps.
"If someone's offended by something and it's their words then you can understand why they want it taken down," she said.
Ms Soubry said she was glad Mr Johnson had a sense of humour about it all, but promised to speak to Mr Shapps saying "if somebody's had their words edited and they've not been asked, and they're cross about that, then that's not right".
But a Conservative Party spokesman said: "Paul Johnson is perfectly clear that Labour's economic offering would mean higher borrowing and more debt and that, in turn, creates more risk with the public finances. And that was exactly the point we were making. Voters will decide if they want that or not."
Mr Johnson has also warned that spending cuts proposed by the Conservatives would be tough to deliver, saying George Osborne's Autumn Statement implied that departments whose budgets were not protected could face 26% cuts after 2015-6.
David Cameron has said a further £30bn squeeze in spending will be needed after the election but Mr Johnson said the figure could potentially be as high as £50bn.