Tory MP James Arbuthnot reveals pressure to hide atheism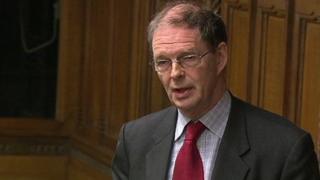 There is pressure on Conservative politicians to keep quiet about not being religious, a Tory MP has claimed - as he revealed his atheism for the first time in his 28-year career.
James Arbuthnot said he felt he could only now say that he is an atheist because he is not seeking re-election.
The North East Hampshire MP likened the need to keep quiet to the pressure that has been faced by people who are gay.
His was speaking in a debate on a bill to allow prayers in council meetings.
Mr Arbuthnot predicted that his public acknowledgement that he is "not in the least bit religious" was likely to "disappoint" some of his constituents and family members.
'Lost beliefs'
During a Commons debate on a bill which would allow prayers at the start of council meetings, Mr Arbuthnot - a former minister - told MPs he was brought up in a Christian household, having been christened and confirmed.
"But since then I have lost those beliefs and faith that I once had and I am perfectly comfortable with that. But this is the first time I have ever actually acknowledged that in public," he said.
"And it may be true that the pressure on a Conservative politician, particularly of keeping quiet about not being religious, is very similar to the pressure that there has been about keeping quiet about being gay."
"For the avoidance of doubt," he added, "I am not gay either but I just wanted to say that it is telling that it has taken me 28 years in this House, and frankly in the knowledge that I won't be standing in the next election, to make this point."
The Local Government (Religious etc. Observances) Bill, introduced by Conservative MP for Rossendale and Darwen Jake Berry, would allow for prayers at the start of council meetings but leave decisions about length, format and faith to individual authorities.
'Grave danger'
During the report-stage debate, Conservative Sir Edward Leigh argued that prayers that take into account Britain's Christian heritage could help in the fight against extremism, as "a little religion actually stops outrageous intolerance".
Sir Edward, who was a private secretary to former Prime Minister Margaret Thatcher, claimed Britain's whole foundation was built on Christian values - which should be recognised in local government.
"Because otherwise we just lose contact with our history and I think actually in losing contact with our history of tolerance which has been the foundation, the essence of the British state, we actually encourage religious extremism, because often it's the families where there is absolutely no religion that people are led astray sometimes into following bizarre sects and the rest."
He added: "There is a grave danger of we in Britain becoming severed from our roots, lacking an understanding of our history, such a deracinated population would be much easier to manipulate whether it's a Hitler or Stalin or some other modern day tyrant whose dominion you fear."
The private members' bill - which had the support of both front benches - passed its remaining stages in the Commons unopposed, meaning it will now go to the House of Lords for further scrutiny.