Cameron should 'stop ducking' TV election debates, says Miliband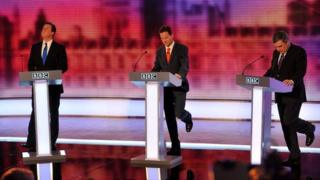 Broadcasters should "empty-chair" David Cameron if he refuses to take part in the general election TV leaders' debates, Ed Miliband has said.
The PM has refused to participate unless the broadcasters' initial plans are changed to include the Green Party.
Mr Miliband told the BBC's Andrew Marr Show that the debates should go ahead "with or without" Mr Cameron, who he claimed was "running scared".
Mr Cameron says the broadcasters' plans are unfair.
'Disreputable'
Current proposals for the TV debates include the Conservatives, Labour, the Liberal Democrats and UKIP.
Mr Cameron has said he would like the debates to take place, but insists that "you can't have some minor parties in and not other parties in".
Mr Miliband told the BBC: "I think it is pretty disreputable that David Cameron went into the 2010 election saying that these debates were the most important thing that we could possibly have and people shouldn't make feeble excuses to get out of them, and he is doing precisely that.
"He is running scared of these debates. I want these debates to happen, I think they should happen with David Cameron or without David Cameron.
"I don't think any one political leader should be able to stop these debates happening, should be able to veto these debates, block these debates.
"If an empty chair represents David Cameron in these debates, so be it. I think these debates need to happen. They are owned by the British people, not owned by David Cameron or anybody else. I think, frankly, the prime minister should stop ducking and weaving, trying to avoid these debates," Mr Miliband added.
Under plans put forward by the major broadcasters in October, the prime minister would take on Mr Miliband alone in one debate, with another featuring Mr Cameron, Mr Miliband and the Lib Dem leader, Nick Clegg. A third would also include UKIP leader Nigel Farage.
Conservative backbencher David Davis said that attempting to avoid TV debates "may be right tactically" but that it was not realistic.
"It's unavoidable. They've got to have the debate. It will happen, in an internet age," he told the BBC's Sunday Politics.
Former Conservative chairman Lord Tebbit has warned that voters will think Mr Cameron is "frit" if he dodges the live TV debates with his election rivals.
"The public enjoy these confrontations. It is obviously going to be the most awful election campaign that anyone can remember, so to rob it even of this little bit of show, I think, would not be particularly pleasing to the public," the Tory peer told the Observer.
Lord Tebbit's remark that Mr Cameron risked looking "frit" echoes Margaret Thatcher's 1983 taunt to then Labour deputy leader Denis Healey that he was scared of a general election.
The suggested schedule is for debates on 2 April, 16 April and 30 April, ahead of the election on 7 May.