Paris shooting: Nick Clegg 'dismayed' at Farage comments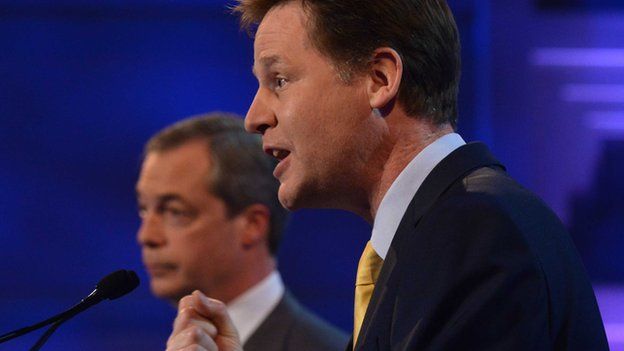 Deputy Prime Minister Nick Clegg has accused Nigel Farage of trying to "make political points" after the shootings in Paris which killed 12 people.
The UKIP leader said the attack by suspected Islamists on satirical magazine Charlie Hebdo on Wednesday was "truly horrific".
He added, on Channel 4 News, it raised questions about what he called a "gross policy of multiculturalism".
Mr Clegg said he was "firmly grabbing the wrong end of the stick."
Mr Farage said there was a "very strong argument" that the events were a result of "a fifth column" which he said lived in Paris and London.
He said: "We've got people living in these countries, holding our passports, who hate us.
"Luckily their numbers are very, very small but it does make one question the whole really gross attempt at encouraged division within society that we have had in the past few decades in the name of multiculturalism."
Home Secretary Theresa May said the reference to a "fifth column" - which can refer to a faction inside a country working with its enemies to create instability - was "irresponsible".
She said everybody across society should be working to "ensure that we deal with and eradicate extremism, wherever it exists".
Communities and Local Government Secretary Eric Pickles said it was "utterly wrong" for any politician to make "political points" so soon after the attacks.
"If we fight among ourselves or see our neighbours of any faith as the enemy, then the only winners are the gunman," he warned.
Labour leader Ed Miliband said people "across faiths" were united in condemning the attack, and did not think Mr Farage "should be seeking to divide us in this way."
On his LBC phone-in, Mr Clegg said: "I am dismayed that Nigel Farage immediately thinks, on the back of the bloody murders that we saw on the streets of Paris yesterday, his first reflex is to make political points."
The Lib Dem leader said that if the attackers did turn out to be Islamist extremists, "law-abiding British Muslims" were the "greatest antidote to the perversion of Islam".
He added: "To immediately... imply that many, many British Muslims who I know feel fervently British but also are very proud of their Muslim faith are somehow part of the problem rather than part of the solution is firmly grabbing the wrong end of the stick."
The deputy prime minister also said that in a free society, "people have to be free to offend each other".
He added: "We have no right not to be offended.
"That fundamental principle of being free to offend people and not saying you have a right not to be offended in a free democratic society such as ours is exactly what was under threat by these murderous barbarians".
David Cameron, who along with Mr Miliband condemned the attacks during Prime Minister's Questions on Wednesday, said of Mr Farage's comments: "Today is not the day to make political remarks or arguments.
"Today is the day to stand four-square behind the French people."