Why London v Scotland suits Jim Murphy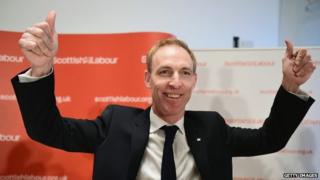 With phrases like "fiscally vindictive" and "highly unscrupulous" being hurled around, it's clear that a political row is playing out which is as bitter as it is old.
It is being contested on familiar turf: does the rest of the UK, and particularly wealthy London, subsidise Scotland?
The front pages of the London editions of The Times and The Daily Telegraph both concentrate on a "pledge" from the Scottish Labour leader Jim Murphy, made as he kicked off his campaign for the general election.
"Mansion tax to fund nursing in Scotland" is The Times' headline. "Labour tax on 'wealthy English' to fund nurses in Scotland" is the Telegraph's take.
Believe it or not, those headlines will suit Mr Murphy. The new leader of the Scottish Labour Party has a tough task.
When she quit in October, his predecessor Johann Lamont hurled grenades towards the party's UK leader Ed Miliband, calling colleagues at Westminster "dinosaurs" and accusing them of treating the Scottish party like a "branch office".
SNP challenge
As if that wasn't bad enough for Mr Murphy, poll after poll is suggesting that almost all of Labour's 41 seats in Scotland, many of them with huge majorities, are at risk of falling to the SNP in May.
In this context, Mr Murphy's strategy is three-fold.
First he asserts "traditional Labour values", for example by promising to protect the NHS. Secondly he attacks the nationalists, for example, by suggesting that an independent Scotland couldn't afford to maintain top quality public services.
Thirdly he tries to distance himself from Mr Miliband, asserting the Scottish Labour Party's own "independence".
That is why the East Renfrewshire MP suggests that Scotland can have 1,000 extra nurses thanks to a mansion tax which would raise far more in the south east of England than it would in Scotland.
Of course, nothing is so simple. The mansion tax would not directly "prop up health spending north of the border" as the newspapers claim.
'Confected split'
As the Telegraph story acknowledges, new nurses in Scotland would not be funded by any specific tax.
"The £250m cost of (Jim Murphy's) promise to fund more nurses would be met from extra funds that would come to Scotland via the Barnett formula thanks to Mr Miliband's promise to spend an extra £2.5bn on the English NHS," it says.
And, when you think about it, isn't it spurious to pick one UK-wide tax and say that the money for any devolved or reserved policy is derived from it?
It isn't. What is happening here is politics.
Mr Murphy wants a headline suggesting that Scotland was right to reject independence, highlighting Labour's pledges on the NHS and a mansion tax, and engineering a confected split with Mr Miliband which makes it look like Scottish Labour is no longer taking orders from London.
The Times and Telegraph oblige, not least because it suits their agendas to bash Mr Miliband and Scottish nationalism at the same time.
This is a proxy row for the age-old question - is Scotland subsidised by the rest of the UK?