HMRC defends 'laughable' call to tweet tax inquiries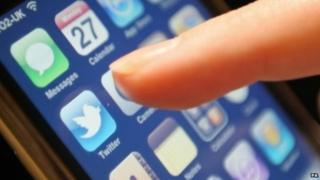 Tax officials have defended asking people to tweet their inquiries after an MP said the idea was "laughable".
Stephen Hardwick, director of communications for HM Revenue and Customs, said Twitter would be a "supplement" to calling helplines.
But Mr Hardwick said people should not tweet any personal data.
He apologised for long waiting times on HMRC's phonelines and promised more staff for an expected spike in self-assessment calls this month.
When HMRC suggested using its new @HMRCcustomers Twitter account for some queries, Labour MP Margaret Hodge, who chairs the Commons Public Accounts Committee, said the idea was "laughable".
She added: "No customer based service should tolerate such a poor service and both ministers and senior management should simply sort this out."
'Same question'
Conservative MP Mark Garnier said he was unable to think of even a simple tax query which could be expressed within Twitter's 140 character limit, while shadow Treasury minister Shabana Mahmood said it "beggars belief" that the government would encourage people to "publicly tweet about their tax affairs".
But Mr Hardwick told BBC Radio 4's Today programme: "We are serious about the use of Twitter as a supplement to going online and using the telephone.
"What we don't want people to do is to give us any personal details.
"It's a very useful social media device to get guidance, to help point people to where they can get information online.
"It's a pilot, it is starting small, but the whole point of social media is you answer a question once and hundreds or thousands of people can see the answer, rather than answering the phone to all of those people asking the same question."
HMRC figures show that average waiting times for its contact centre telephone queues reached 10 minutes and 53 seconds in September - more than double the five minutes and 21 seconds recorded at the same point in 2013.
'Really sorry'
Some 34.5% of calls were cut off, compared with the 20.5% recorded last year. And the number answered in under two minutes dropped from half to a quarter.
Mr Hardwick said he was "really sorry" the phone service was not up to standard.
"What we are doing for the self assessment peak in January, which is one of our two big peaks in the year along with the tax credits peak in July, is we are putting 1,500 people on the phones to help," he said.
"We are a bit like the Royal Mail with the Christmas post - you don't staff up all year for a very short-term peak, so we are moving people flexibly in and out of the telephones."
The deadline for filing an online self assessment tax return is 31 January.
Revealing HMRC aimed to answer 89% of calls first time this month, Mr Hardwick urged people not to leave their tax affairs until the last minute.