Tony Blair says Labour 'left-wing' warning 'misinterpreted'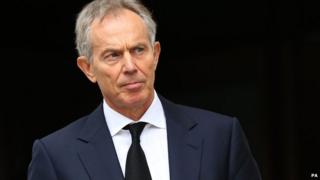 Tony Blair has insisted he is fully behind Ed Miliband despite appearing to suggest Labour risks being too left-wing to win the general election.
The former prime minister told the Economist May's poll could become one "in which a traditional left-wing party competes with a traditional right-wing party, with the traditional result".
Asked if this meant a Tory win, he replied: "Yes, that is what happens."
He later said he expected a Labour victory and had been "misinterpreted".
In response, Lucy Powell - a close ally of Mr Miliband - told the BBC that she had a "great deal of respect" for Mr Blair but suggested he was a politician from a "different era" and the challenges were not the same as when was in office.
'Centre ground'
Mr Blair, the last Labour leader to win a UK general election in 2005, told the Economist he was "convinced the Labour Party succeeds best when it is in the centre ground".
Stressing the importance of Labour "not alienating large parts of business, for one thing", he added: "I am still very much New Labour and Ed would not describe himself in that way, so there is obviously a difference there."
---
Analysis
Robin Brant, political correspondent, BBC News
The quote from the Economist is not crystal clear. In fact it appears to be a partial sentence, in which Tony Blair repeats his view about how the general election appears to be shaping up.
Except this time it looks like it is his view, not just the one he ascribed to the media back in October.
That distinction is crucial to the claims that this represents criticism of Ed Miliband because the former prime minister doesn't believe that on the traditional left is where Labour should be or where it can win an election from.
And to anyone still not sure, he rammed home that message by saying he is still "very much New Labour", before adding there is "obviously a difference there" with the current Labour leader.
Further and perhaps more significant evidence of disagreement with where Ed Miliband has taken the party can be found when Mr Blair says "not alienating large parts of business" is a key lesson he learned from his three election wins. Remember the current leader's attack in 2011 on predatory practices by some firms.
---
Mr Blair won three consecutive elections for Labour after modernising the party, before standing down to be replaced by Gordon Brown.
He also questioned Mr Miliband's claim that the financial crash in 2007/8 and subsequent economic problems had shifted the UK's political centre ground towards the left.
"I see no evidence for that," Mr Blair said. "You could argue that it has moved to the right, not left."
Mr Blair subsequently issued a short statement on Twitter: "My remarks have been mis-interpreted, I fully support Ed and my party and expect a Labour victory in the election."
Following newspaper reports in October alleging Mr Blair doubted Labour's chances of victory, the former prime minister insisted that Ed Miliband "can and will win the next election".
Labour MP David Lammy said that as a three-time election winner, Mr Blair's concerns should be "taken very seriously" and the party needed to appeal to the "broadest" spectrum of voters.
While public opinion may have moved to the left on some issues, such as energy prices, he told the World at One on BBC Radio 4 that Labour "had to be the party of aspiration and should not cede this ground to the Conservatives".
'Disconnected'
But Paul Kenny, leader of the GMB union, said Mr Blair was "disconnected" from the lives of the people that Labour represented.
"It is sad and disappointing that a very wealthy man like Tony Blair, given his background in the Labour movement, opposes measures to close the widening and now unacceptable inequality gap between those at the top and the rest in our society."
Lucy Powell, the Manchester Central MP who was recently appointed to a key role in Labour's general election team, rejected suggestions the party had alienated business, saying it strongly backed Labour's position on staying in the EU.
She said the party must "constantly change to reflect the times it is operating in" and, unlike in 1997 and 2001, there was now a need to "fundamentally change" the way the economy works for ordinary people.
"Tony Blair has his experience and his knowledge from his era as leader of the Labour Party and that is not the era that we now live in," she said.
Mr Miliband has in recent times committed his party to freezing energy prices, reinstating the 50p top rate of income tax and introducing a levy on properties worth more than £2m dubbed the "mansion tax".
In his traditional end-of-year message released on Wednesday, the Labour leader said his party would reveal further plans to raise wages, establish "fair rules for immigration" and "rescue our NHS" in the run-up to the 7 May poll.
Although warning that change would not be "easy or instant", he said a future Labour government could "build a country that works for everyday people".
"This isn't about idle dreams or empty promises," he said. "It's about a real, concrete plan: a plan for a recovery which reaches your kitchen table."