Rural firms catching up, environment secretary says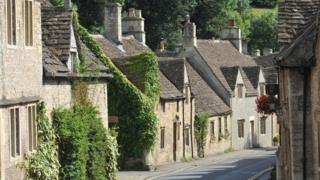 Faster broadband and better transport links could help the rural economy grow faster than the urban sector over the next decade, Environment Secretary Liz Truss has said.
Entrepreneurs were now more likely to start a new business in a rural area than in a town or city, she said.
Government analysis suggests output by 2025 could be £35bn higher than it would have been without such change.
Use of technology means the environment does not have to be damaged, she added.
Ms Truss said there could be both a "healthy environment" and "healthy economy".
She told BBC Radio 4's Today programme: "At the moment what we have is a gap between productivity in rural and urban areas.
"What that means is we are seeing an increasing number of business start-ups in rural areas - people are now more likely to start a business in a rural area than an urban area."
She gave the example of a Norfolk firm selling airport security equipment to Dubai and China.
'Ordinary people'
The government and local authorities are investing £1.7bn in high speed broadband in the countryside.
Ms Truss defended the speed of the rollout of the project, saying it would be available to over 95% of the UK by 2017.
She also said wages would rise in future in rural economies and highlighted the help residents were getting from government policies on freezing fuel prices and road spending.
The analysis by the Department for Environment, Food and Rural Affairs found rural areas in England are currently home to a quarter of all businesses, despite only around 18% of people living there.
Knowledge-based industries including IT and consultancy were found to be among the fastest-growing businesses.
Shadow food and farming minister Huw Irranca-Davies said the government's assessment was based on plans that were yet to be delivered.
"Having failed the countryside on broadband and infrastructure investment over the last four-and-a-half years the Tories are promising jam tomorrow," he said.
Labour referred to an Office for National Statistics study that it costs £2,800 more a year to live in a rural area than city.
Mr Irranca-Davies said: "Only by tackling the cost-of-living crisis can we build a rural economy that works for ordinary people instead of just a privileged few."