Green Party leader Natalie Bennett calls for 'peaceful revolution'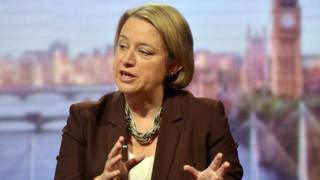 A general election turnout like that in the Scottish independence referendum could trigger a "peaceful revolution" in British politics, the leader of the Green Party of England and Wales says.
Natalie Bennett said the Scots had "shown us the way" in September's vote.
She also played down disagreements between the party's politicians after Green MP Caroline Lucas protested against her local Green-run council.
The party has been outperforming the Liberal Democrats in some recent polls.
It has also protested at plans to exclude it from the televised debates ahead of next year's general election.
More than 84% of eligible voters took part in the vote which rejected Scottish independence, where the Greens campaigned for a 'Yes' vote.
"If we get turnout like that... this is the time for real change," Ms Bennett told BBC Radio 4's The World at One.
Asked what she would look for in possible post-election coalition negotiations, Ms Bennett said the party wanted to stop "poor, disadvantaged and young people" paying for what she called the "errors and fraud" of bankers.
She also reiterated her demand to scrap the UK's Trident nuclear weapons system.
Ms Lucas, who represents Brighton Pavilion, joined the picket line when refuse collectors and street cleaners went on strike over Green-controlled Brighton and Hove City Council's implementation of equal pay rules last year.
Ms Bennett said: "It's time we moved on to grown-up politics.
"People of goodwill aiming to get to the same end point might disagree with the means of getting there."
She added: "It's not a question of fighting, it's a question of debating".