What are the Conservatives' prospects for 2015?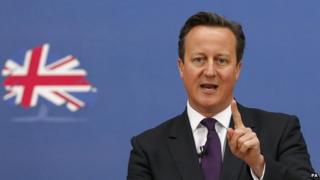 It was a year in which the Conservatives lost two of their MPs to UKIP and David Cameron faced simmering backbench discontent over Europe and immigration, but the economic news was more encouraging.
It must be galling to local Conservatives that one of the first sights greeting visitors to Clacton train station are the words "Douglas Carswell" and a photo of their former MP on the outside of his UKIP constituency office.
It is next to - appropriately enough - an estate agent called "Moving Places".
Conservatives had hoped that losing the Clacton by-election was down to the Carswell effect, the equivalent of a political squall in a seaside town.
But then, just a month later, the party lost Rochester in Kent as well. The question for the Conservatives between now and May is what can they do about UKIP?
Simon Martin-Redman was, until the MP's defection last August, the chairman of Douglas Carswell's constituency association.
Sitting on his table is a bust of Winston Churchill, who described his own defections - from Conservative to Liberal, and back to Conservative again - as "ratting" and "re-ratting".
Core voter
To get the voters to return to the Conservative fold, Simon Martin-Redman thinks his party must take on UKIP.
"There was a reluctance to do it in the by-election," he says. "The mantra was 'we do not attack our opponents, we say what our policies are'. That clearly did not work here in Clacton.
"I think the Conservative Party needs to realise there is a core voter that is disaffected with life in general, politics in general and the Conservative Party have to somehow manage to win those people back."
One former chairman of the national party, Norman - now Lord - Tebbit, says the Tories need to understand that many who traditionally supported the party do not see Douglas Carswell and Mark Reckless as political traitors.
"It's got to meet some of the problems of the UKIP challenge, and preferably not by abusing ex-Tories as brain-dead nutters," he says.
Lord Tebbit also says he understands why Mr Carswell and Mr Reckless were tempted to cross the floor.
"I have every sympathy with them and I think they'll probably get re-elected at the general election. The Tories fought the wrong campaign against them and went to the wall because of it.
"They just didn't listen to what the electors were saying - Europe, immigration and things of that kind."
In November David Cameron made a keynote immigration speech in which he called for a four-year wait before EU migrants could receive certain benefits.
But Mr Cameron's problem is that he made a "no ifs, no buts" pledge to reduce the net level of migration to tens of thousands, and has not met it.
The Conservatives hope another Prime Ministerial promise - to renegotiate EU membership, then hold a referendum in 2017 - is enough to allow them to focus on other subjects than immigration in the campaign.
Personal ratings
Lord Tebbit is sceptical: "Mr Cameron swore that he would get (net) immigration down to tens of thousands, so that's a real problem. It makes it difficult for him to persuade people that he can control it without a radical change in our relationship with Europe - which UKIP would point out would almost certainly mean leaving the European Union."
Yet opinion polls suggest the failure to deliver on immigration has not done him much personal harm.
Peter Kellner is president of YouGov, a polling company.
He says: "The Conservatives are running around 30%-31% support but you look at David Cameron and people who think he is doing well comes to about 40%.
"He is running ahead of his party but the Conservative Party still has a brand image problem with the wider public."
Whilst enjoying a strong lead on the economy, though, the Tories still do not do so on issues like the NHS, crime and living standards.
For David Willetts, minister for universities and science until the summer with a seat around the Cabinet table, talking more about Europe and immigration is the last thing the Conservatives should be doing.
"I think the problem for the Conservative Party is if we are rating Europe as a more significant issue than the electorate," he says.
"Because of the way in which we inevitably had to address people's concerns about issues like the EU and migration it has an opportunity cost, it means you are occupying the airwaves with those messages and not with other messages."
One person who fully appreciates the scale of the party's image problem is Sean Worth, a former special adviser to Mr Cameron in Number 10.
He points to the local election results in London as evidence of the party's failure to broaden its appeal, particularly among voters from ethnic minorities.
"I was quite surprised that the Tories did so badly in some areas of London and it certainly wasn't any threat from UKIP," he says.
"It was the traditional issue about appeal and brand and inclusion, about whether the party represents lots of different kinds of people. I think that's where the Tories are putting a lot of effort and so I'm looking at this election with a huge amount of interest to see whether those efforts will come off."
Lord Tebbit thinks the strategy is misguided. He blames Mr Cameron's attempt to shift to the centre ground and says it has created the electoral space that UKIP will seek to occupy on polling day.
"The likely outcome of the general election, looking at the polls over some months now, the Conservatives will not regain their votes to the level which they should do.
"I think it's going to very difficult to win an overall majority unless - for some reason or another - UKIP should implode."