How do the Liberal Democrats stand at the end of 2014?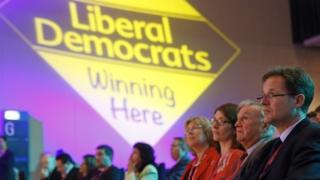 It has been another testing year for the Liberal Democrats, but are there any crumbs of comfort ahead of a general election that one MP has described as a "mini-Stalingrad"?
All around us are jars brimming with every sweet imaginable as Claire is busy serving customers filtering in from Rochester's high street.
It might seem a curious choice to find expert political analysis but during the recent by-election this shop ran its own straw poll - a sweet poll, I suppose you would call it - and Claire reveals the final results to us.
UKIP, which won November's contest, was a "totally full strawberry bonbon jar", she says as she lifts a very heavy looking glass container.
A half-full jar of red sweets representing Labour is revealed next, followed by the Conservatives which collected two-thirds of a jar.
Then it's the turn of Liberal Democrats - their sweets rattling at the bottom of the jar: "Two, four, six, eight, 10, 12, 14… 16," exclaims Claire.
Despite its unscientific nature, the shop's poll was only a few percentages points out from the actual result.
For 20 years as a party of opposition, the Liberal Democrats were the voters' sweet hearts. Since they came into government, though, voters have deserted them.
Here in Rochester they polled less than 1% of the vote.
"I was a bit surprised that the vote went down from 7,800 to just over 300," Geoff Juby, who was their candidate, says. "The drop was all in one go. I would have expected a little drop this time and a little drop next year."
We pressed Councillor Juby on what impact, if any, party leader Nick Clegg had on the door-step?
"People either like or don't like him. There's no halfway house. There are still quite a lot of people who don't like him because of the tuition fee issue. I think the Marmite description sums him up quite well."
He concedes that the party is still haunted by the increase in university fees, with people saying the Liberal Democrats "can't be trusted".
Nick Clegg has to walk a political tightrope. emphasising his differences with the Conservatives without upending the coalition itself. Hence the decision last spring to challenge Nigel Farage to a head-to-head debate on Europe, an issue where differences between Lib Dems and Tories are at their starkest.
Coalition crumbled
Yet it doesn't appear to have arrested the decline in Lib Dem support.
In May, they lost 11 out of 12 of their MEPs and 300 of the 700 or so council seats they were defending.
Peter Kellner, president of the polling company YouGov, says the vote-winning combination of voters once assembled by the party has crumbled.
"Three kinds of people voted Lib Dem in 2010: those we were protest voters who didn't like the two main parties - they've lost that vote," he says.
"Secondly, left-of-centre voters who for various reasons, either tactically or because of their view on the state, didn't want to vote for the Labour Party - they've lost most of them because they've joined forces with the Conservatives.
"Then you've got the third group who genuinely believe in the policies and doctrines of the Liberal Democrats - they've held on to them but that's why they're on 6%, 7%, 8% not at 20% plus."
"My guess is that they will pick up some extra support and a number of Lib Dems will have a personal following in their own seat, which will provide some protection from the decline in support, but not complete protection."
'Stalingrad election'
John Pugh, the Lib Dem MP for Southport on Merseyside, says the strategy is to fight every seat the party holds like a "mini Stalingrad".
"Our difficulty though is that we need to do more than that. We've got to improve the image, the brand of the Liberal Democrats nationally," he argues.
May's elections were a "disastrous result", he says, and a series of setbacks in local government has weakened the party "greater than the party hierarchy expected".
"We can't go on having attrition and attrition and saying it doesn't count - we still hold the MPs we've got."
Given the run of results, does he think Nick Clegg is an asset to the party?
"Nick has been the front man of the party throughout. He's taken the knocks and he's suffered with a lot of unfair media attention and comment and ridicule.
"That being said, the result of that is that some of the public has ceased to listen to Nick at all. There's a section of the public that just is not listening to Nick. For that reason I think we need to look to other voices to get the party's message and values across."
The Lib Dems risk having their voice drowned out by the clamour over parties like the SNP and UKIP.
In the long shadows cast by Rochester's cathedral on a wintry afternoon, there is a clear sense of just how hard it will be for Nick Clegg to regain voters' attention. When his name is mentioned, the reception is decidedly chilly.
"We can't stand Nick Clegg" said one voter - part of a group that had come down to Rochester for the day. "I just think he's dreadful" added another.