Immigration system in intensive care, warns Keith Vaz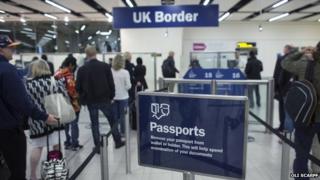 The UK's immigration system is in "intensive care", the chair of a parliamentary committee has warned.
Keith Vaz criticised ministers over exit checks, missing migrants and the use of a single immigration target.
The Home Affairs Select Committee report on UK immigration directorates raised "serious doubts" over plans to bring in exit checks on all those leaving the UK by next April.
Immigration Minister James Brokenshire defended the government's record.
'Twin perils'
One of the key areas of concern was the government's plans to introduce exit checks at British ports.
Mr Vaz said MPs had been assured that, by April 2015, a new system of "departure lists" would be in place for all passengers leaving the UK - but the report says this "no longer looks likely".
Failure to meet the target on time would "give rise to the twin perils of increased security risks and illegal migration", Mr Vaz said.
It follows more than a decade of problems and delays in the "e-borders" project, a scheme devised by the Labour government in 2003 to count everyone in and out of the UK by collecting advanced passenger information.
Mr Vaz said: "Successive governments have spent millions of pounds of taxpayers' money on the botched e-borders programme. Everyone who enters and leaves Britain must be counted in and out."
The scheme was "terminated" in its current format earlier this year.
Mr Vaz added: "Our immigration system has left A&E and has entered intensive care."
'Unwieldy'
In its report on the immigration directorates formed when the UK Border Agency was split into two parts, the committee criticised the Home Office over the target to reduce net migration to fewer than 100,000.
It said this was "too blunt" and "unwieldy".
The report said: "No government of whatever political formation can control the number of people who voluntarily wish to leave the country.
"This raises questions about future immigration policy. An arbitrary target set by ministers, however well-intentioned, only serves to reduce public confidence in the ability of any government to deliver a future pledge on immigration."
Last month, Home Secretary Theresa May acknowledged the target was "unlikely to be met" before the general election.
The committee also attacked the Home Office for "poor record-keeping" over foreign nationals convicted of a criminal offence.
"The public simply cannot understand why people convicted of a criminal offence in our country who are of different nationality are either still in the UK in prison and have not been sent back to their home country, or are at large in the community," Mr Vaz said.
'Curbed abuse'
Mr Brokenshire said the government was building an immigration system which was "fair" to UK citizens and legitimate migrants, and "tough on those who flout the law".
The minister said "comprehensive" exit checks would be in place by April, and that they would "increase security and target migration abuse".
He said there were 50,000 fewer migrants coming to the country from outside the EU than there were in 2010.
Shadow immigration minister David Hanson said: "This is the final nail in the coffin of the Tories' flagship net migration target.
"The committee has declared the target is in tatters and has only served to reduce public confidence in the immigration system."
Tony Smith, former head of the UK Border Force, said he did not believe the deadline for introducing exit checks would be met.
He told the BBC: "Increasingly air carriers are providing us with advance passenger information - and that's where we have stolen a march on a lot of countries, a lot of countries don't do that.
"But I don't think we're going to have systems and processes in place to be able to deal with traffic that goes across European borders - frequent traffic - where we simply don't have access to the data."
'Real progress'
Meanwhile, Prime Minister David Cameron has said the Conservatives are addressing problems with the immigration system.
Writing in the Daily Express, Mr Cameron said: "I came into office with a single-minded determination to turn all this around - and real progress has been made.
"We put a cap on those coming here to work from outside the European Union - and we have seen the numbers fall significantly, close to levels last seen in the 1990s.
"Major work has been done to clamp down on the bogus 'colleges' that were really just a front for people to come here, with more than 800 of them shut down so far.
"On illegal immigration, we are making it harder for people who have no right to be here to live in the UK, by revoking their driving licences, stopping them from opening bank accounts and making sure landlords check their legal status."
But UKIP MP Douglas Carswell criticised the prime minister's record over immigration and said the UK needed to leave the EU in order to control its borders properly.
He told BBC Radio 4's Week in Westminster: "Every one of the Tweedledee and Tweedledum parties promises to create a system of border controls which means that when people leave the country they are logged out as having left.
"None of them has done it. You can't do that until you leave the European Union. The other parties cannot actually address the challenges if we contract out the fundamental decision-making process to unelected officials in Brussels and Whitehall."