Cost of ministers' special advisers hits £8.4m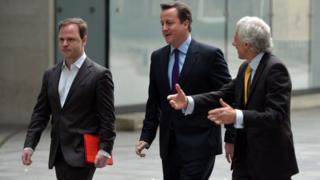 The cost of ministers' special advisers has risen to £8.4m following a rise of more than £1m in the past year.
There are now 103 "spads" employed to give advice over and above the work carried out by civil servants, up from 98 last year, official figures show.
They include a total of 26 working for David Cameron in Downing Street and 20 working for Nick Clegg.
The government said it reflected the "nature of coalition" and that their average pay was higher under Labour.
Labour said the figures showed that the overall numbers of special advisers had risen inexorably under the coalition.
According to the Cabinet Office, the total salary bill was £8.4m in 2013-14, compared with £7.2m in 2012-13.
---
Number of special advisers
1996-97: 38
1997-98: 70
2004-05: 84
2006-07: 68
2008-09: 74
2009-10: 71
2011-12: 85
2012-13: 98
2013-14: 103
---
Six advisers are being paid £100,000 or more, with the list topped by David Cameron's chief-of-staff Ed Llewellyn and his director of communications, Craig Oliver, who each received £140,000.
Mr Clegg's director of communications, Steve Lotinga, earned £105,000.
Shadow leader of the House Angela Eagle said: "David Cameron promised to get the cost of politics down but under him the number of special advisers spirals ever upwards.
"The Lib Dems used to say that special advisers shouldn't be paid for by the public but as soon as Nick Clegg got his feet under the Cabinet table, he broke his word."
'Less spin doctors'
The Coalition Agreement said the government would "put a limit on the number on special advisers" but the pay bill and numbers have increased over the past few years.
The rising cost of special advisers was also criticised by UKIP. The party's economic spokesman Patrick O'Flynn said: "What we really need are more real doctors and less government spin doctors."
A Cabinet Office official said: "Workforce reductions and pension reforms saved £4.7bn last year, compared to a 2009/10 baseline.
"Special advisers perform an important function and their average salary cost is 8% lower now than under the previous government."