The year 2014 in political tweets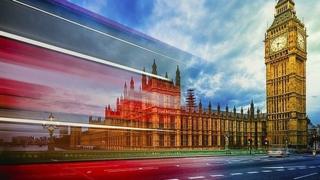 Five years ago, in the early days of the coalition government, 111 MPs were on Twitter, and David Cameron was still resisting signing up.
Things have moved on since then - according to research published earlier this year MPs sent 718,431 tweets over a 12-month period, with 450 now using Twitter in some capacity.
Here are 12 tweets that made the news in 2014.
---
Ukraine phonecall
In March, David Cameron tweeted his condemnation of Russia's actions in Ukraine. The photo the PM posted, showing him on the phone to Barack Obama, was parodied on Twitter by celebrities including Patrick Stewart.
---
Bingo budget
Later that month, Conservative Party chairman Grant Shapps heralded George Osborne's Budget. Labour said the advert was "patronising" towards working people, and alternative versions sprung up on Twitter. Mr Shapps said he was proud of the message.
---
Mitchell criticised
Labour MP Austin Mitchell refused to apologise for a tweet posted in May, comparing Pfizer's proposed takeover of AstraZeneca to rape. Women's Minister Nicky Morgan described his comment as "deeply offensive".
---
Fabricant 'punch' row
In June, Conservative MP Michael Fabricant did apologise for tweeting that he might end up punching journalist Yasmin Alibhai-Brown "in the throat" if he appeared on a discussion show with her. He used Twitter to apologise, saying: "If anyone believes I would seriously threaten someone with violence, I of course withdraw and apologise."
---
Reshuffle tweets
In July it was reshuffle time, and Prime Minister David Cameron tweeted the Cabinet comings and goings as they happened.
---
Ministerial 'puppets'
The reshuffle led to a Twitter-based row, as Labour MP Helen Goodman made some less-than-flattering comments about some of the women who were given new jobs. She apologised "unreservedly".
---
Gaza conflict
The Liberal Democrats said they "utterly condemned" a tweet by one of their MPs, David Ward, during the Gaza conflict in July. Mr Ward had tweeted that he would probably fire a rocket if he was living in Gaza.
He said he was not advocating firing rockets and after an inquiry, the party said it would not take further action against him.
---
Warsi quits
This tweet from Baroness Warsi, resigning from the government in August over its policy towards the conflict in Gaza, was retweeted more than 32,000 times.
---
Murray speaks out
Having kept his views on the Scottish independence referendum to himself, tennis superstar Andy Murray broke his silence hours before polls opened in September. After being abused on Twitter, he later said he was "a bit disappointed" by the way it was worded but that he did not "regret giving an opinion".
---
Klass struggle
Labour leader Ed Miliband set out his "Pure and Simple" mansion tax plans after Hear'Say singer Myleene Klass said it would hit "little grannies" who had lived in their homes for years.
---
England Flags
The most high-profile political casualty of a single tweet came on polling day at the Rochester and Strood by-election in November. Shadow attorney general Emily Thornberry posted a photograph from the campaign trail, showing a house displaying England flags and with a white van parked outside. Mr Miliband was said to be "angry", she was branded "snobby", and she resigned from Labour's front bench.
---
History made?
When David Cameron posted this tweet about dementia in December, pundits said it had made history as the first one sent during a Cabinet meeting.