David Cameron says people are 'fed up' with onshore wind farms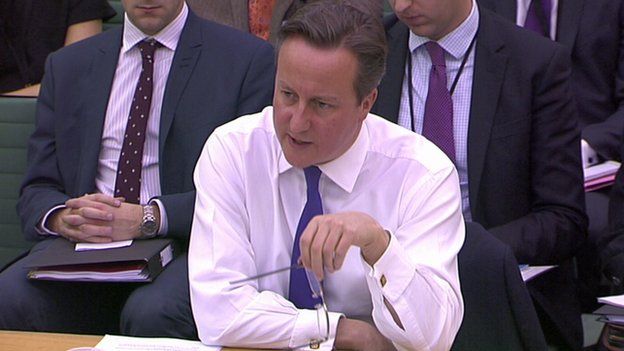 People are "fed up" with onshore wind farms being built, and "enough is enough", David Cameron has said.
The Conservatives say they would not subsidise new onshore turbines if they win the general election.
The prime minister also criticised the "religiosity" of fracking critics, saying he would be happy to see shale gas drilling in his constituency.
Fracking is a "nascent industry" that needs a tax regime "to encourage it to get going", he added.
Shale gas is a natural gas that can be drawn from rock through hydraulic fracturing, or fracking.
Supporters say it could significantly contribute to the UK's future energy needs, but critics say the process could lead to environmental problems.
Mr Cameron told the Commons Liaison Committee of senior MPs that some fracking critics "can't bear the thought of another carbon-based fuel rearing its head".
When Conservative MP Anne McIntosh said fracking was not about to come to Mr Cameron's Witney constituency in Oxfordshire, he replied: "I would be very happy if it did."
The prime minister said there were some differences within the coalition government on environmental policy, but said they were "not huge ones".
The Lib Dems have said they blocked changes on wind farms being made by the coalition.
Mr Cameron said it was right that future developments should have to make their case through the planning system with no more subsidies.
People are "frankly fed up with so many wind farms being built that won't be necessary", he said.
"Enough is enough and I am very clear about that", he added.
When the Conservatives revealed their plans to end subsidies, Lib Dem Energy Secretary Ed Davey said: "Putting the brakes on onshore wind would be disastrous for business and jobs in our growing green economy."
Craig Bennett, of Friends of the Earth, said: "Fracking is so unpopular, while renewable energy enjoys massive public support. The prime minister is backing the wrong horse."