No UK return to Iraq combat role says Michael Fallon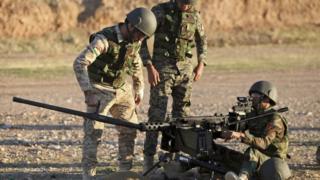 Defence Secretary Michael Fallon has insisted British combat troops are not returning to Iraq despite the UK considering sending more personnel.
Mr Fallon told MPs that the UK was weighing up a "relatively small-scale" contribution of extra troops, on top of the 60 already training Iraqi forces.
On Saturday, he said hundreds could be sent but he told Parliament that no decision had been taken on numbers.
Labour said there was a worrying lack of clarity about the plans.
British forces pulled out of Iraq in 2011, eight years after the mission that brought down Saddam Hussein.
But in response to the military advances of the group known as Islamic State - which controls large swathes of Iraq - the UK has sent about 60 troops to train Iraqi and Kurdish fighting the militants.
The UK has also taken part in air strikes against IS targets in Iraq since September - four days after Parliament approved military action.
Discussions
Mr Fallon was forced to come to Parliament to answer an urgent question after he told a newspaper on Saturday that an additional force "in the low hundreds" could be sent to Iraq in 2015.
He told MPs that he had held discussions with the Iraqi government and the Kurdish authorities and had been told that additional expertise, in areas such as bomb disposal and dealing with explosive devices, would be welcome.
But he said no decisions had been made on numbers and that Parliament would be informed when it was.
Asked by Lib Dem MP Sir Bob Russell to rule out the use of UK combat troops, Mr Fallon said the Iraqi government did not categorically want assistance of this kind.
"It is the president of Iraq who has said he does not want British or any other foreign combat troops involved in this," he said.
"We need to make it absolutely clear that we are not proposing to return with combat troops to Iraq and the effort we are making is relatively small-scale."
Mr Fallon said the UK was among a host of countries, including Australia, New Zealand, Denmark and Italy, considering making additional specialist expertise available.
The US has also agreed to send around 500 soldiers to Iraq and elsewhere in the region, with the aim of retraining the Iraqi army, much of which fled in the face of IS advances earlier this year.