UKIP - power struggle, not soap opera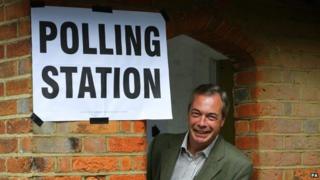 A parliamentary candidate resigns having tried blaming his racist comments on taking painkillers.
This comes days after an alleged sex scandal at UKIP head office in which the party's chief executive did - or did not - sleep with another candidate.
Meantime a wealthy donor is said to be threatening to stop funding the party if his friend doesn't get a seat.
You may think that UKIP's week of bad headlines is just a diverting soap opera.
You may think it simply shows the growing pains of Britain's fastest growing political force. You may think it has no significance at all. If so, you'd be wrong.
All the bizarre news stories that have emerged from UKIP in recent days reflect a power struggle within a party that aspires to hold the balance of power after the next election.
They are all focused on a fight to decide who wins the seats in the Commons which the party now assumes it will win - starting with South Basildon and East Thurrock.
The man who quit last night, Kerry Smith, was forced out after a recording of him expressing offensive views - about gay people, other UKIP members and Chigwell in Essex - was released to the Mail on Sunday.
The recording was not made by a journalist but allegedly by an ally of fellow UKIP Essex candidate Tim Aker.
Smith only got the seat after the favourite, Neil Hamilton, dropped out of the race. Hamilton was reacting to the leaking - allegedly by someone from party HQ - of expenses allegations.
Sounds familiar? Yes, Hamilton is the same guy driven out of Parliament by Martin Bell who stood against him after he was exposed as taking cash for asking questions in the Commons.
UKIP leader Nigel Farage wants to stop Hamilton as he believes his selection would destroy attempts to present the party as a clean break from the discredited old parties.
The problem is that UKIP donor and former Tory multi millionaire Stuart Wheeler doesn't agree so he's said to be holding onto his cash in protest at the moves to block Hamilton.
And finally there's that sex scandal. The suspended UKIP general secretary Roger Bird was noticed to have been pushing candidate Natasha Bolter for every winnable seat including, you guessed it, South Basildon and East Thurrock.
The man in charge of vetting UKIP's election candidates was reported to have complained that "half my time is spent weeding out the lunatics".
These stories are, though, not about "loonies". They are about power.
Update: 08:30 GMT: UKIP say that the party's handling of all the above is evidence that "UKIP has grown up rather dramatically" and "when we do have issues we respond to them extremely quickly".