UKIP's youth challenge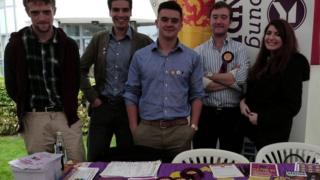 Few would dispute that 2014 was a good year for UKIP. The party topped the vote in the European elections, hit record membership numbers, secured two Conservative defections and won their first (and second) parliamentary seats.
UKIP's quest as the general election approaches is to continue to build its profile as a mainstream party with broad appeal. This entails reaching beyond its core support and, crucially, attracting more young people to the fold, both as activists and voters.
This is a challenge. UKIP's support is skewed to older people, with some recent polls, including a survey by ComRes, suggesting voters in the over-65 category are twice as likely to vote for the party as 18-25 year olds.
"UKIP is very much an old party," says Professor Matthew Goodwin from Nottingham University, an expert on right-of-centre parties across Europe and co-author of Revolt on the Right.
"If it's going to survive, it has to increase its appeal over the long term. That in many ways is its number one challenge.
"UKIP needs to rejuvenate its support base. You can't sustain an insurgency in politics when you're so dependent on voters who tend to be over the age of 65. "
Step forward "Young Independence", UKIP's youth wing, a small but dynamic group determined to address this challenge. The group has 2,950 members - up from 1,700 in February - and has already held two annual conferences.
Young Independence is chaired by Jack Duffin, a 22-year-old from Bedfordshire. A former chef, he joined UKIP in 2012 and now works in the party's press office. He's also standing as a parliamentary candidate in Uxbridge and South Ruislip - alongside the Conservatives' high-profile contender, Boris Johnson.
"UKIP's momentum among young people is growing," he tells me. "We're now a more serious political party with policies across the board and we're attracting young people from all sorts of different backgrounds."
"Image problem"
But translating momentum into support at the ballot box remains a challenge, according to Professor Goodwin.
"There's quite a difference between activists and voters. UKIP may be getting more young members and campaigners but there's very little evidence that 18-30 year olds are any more likely to support UKIP than they were a couple of years ago," he said.
"UKIP has an image problem among young people," explains Ben Page, chief executive of the polling company Mori.
"Our polling suggests 58% of 18-25 year olds see UKIP as "out-of-date", compared with 39% of the population as a whole.
"Immigration and Europe - UKIP's two main political themes - are less important to young people than they are to older age groups. For instance, only 22% of 18-24 year olds say immigration is the most important issue, compared to 53% of over 65s."
Professor Goodwin agrees: "The party has its strongest appeal among people who were born before Britain became a member of the European Union and before large-scale immigration into the country. Young people are not so animated by these two issues.
"The under-35s have grown up in a Britain that's been in the EU, they've probably got lots of friends from different ethnic backgrounds."
Young Independence chair Jack Duffin agrees with UKIP's policies on the EU and immigration, but warns against focusing too heavily on these issues, saying they're they're "not the most important" themes in the party's agenda.
He was drawn to UKIP because of another policy entirely - the party's support for grammar schools.
"I went to a state school, my Dad worked on a building site, my Mum in a pre-school," he told me. "I could see the opportunities I had were different from those of other people with more affluent backgrounds. The postcode you are born into shouldn't matter.
"I read UKIP's manifesto in 2010 and supported its policies on grammar schools and technical education. The other parties were trying to make everyone equal but UKIP was the only party encouraging social mobility."
A former Conservative supporter, Mr Duffin admits he was previously put off UKIP because he felt the party was too narrowly focused on immigration and Europe. He's convinced UKIP can win more support among young people by showing it has a broad agenda.
"Young people want to know about different policies across the board. They're very tech-savvy. They look things up and find out about a party that way," he says.
He claims UKIP's policies for "direct democracy" are also attractive to young people - particularly the plan to trigger a referendum if 5% of the electorate sign a petition - a policy praised by all three young UKIP supporters I interviewed.
Thomas Hoof, the deputy chairman of Young Independence, also joined the party in 2010 after studying its agenda in detail and becoming tempted by the pledges on lower taxes and direct democracy.
A former apprentice, he comes from a family of staunch Labour supporters in Telford. His grandfather was a miner, his father a milkman.
"We had to build from a very low base, but things are changing. We're picking up people who are disenchanted with mainstream politics."
For Mr Hoof, immigration is an issue which "resonates" with young people but he insists the emphasis should be on "space not race".
"If you talk to my friends, they've seen their wages compressed by mass immigration. They're struggling to get jobs. It's not about race or background. That doesn't even come into the debate. It's purely about numbers," he says.
Mr Hoof, who is now UKIP's campaign manager in Telford, says UKIP's "commonsense", "pragmatic" policies are drawing support from young working-class voters in particular, adding that he has converted his own family to UKIP.
Twenty-year old Laura Howard has also persuaded her Labour-supporting family to defect to UKIP. A trainee nurse in Birmingham, she is secretary of Young Independence.
Her support stemmed originally from one of UKIP's lesser-known policies. A vegetarian and passionate animal rights campaigner, she was attracted by the party's opposition to the EU's common fisheries policy and its support for a ban on live animal exports.
"I studied all the political parties and UKIP offered the best animal welfare policies," she told me, adding that policies on immigration and democratic participation were also a factor.
A keen interest in UKIP's policy detail unites all three young activists. Jack Duffin singled out the plan for free hospital parking; Thomas Hoof mentioned the party's opposition to the privatisation of Royal Mail. The three say making their peers aware of such policies is key to broadening the party's appeal.
But interesting young people in the messages of any political party is no easy task. One of the biggest challenges facing all mainstream politicians is disengagement among Britain's youth. In the 2010 general election, 44% of eligible under-25s voted, compared with 76% of over-65s.
This demographic gap currently favours UKIP, with its disproportionate support among pensioners. But the party faces a long-term challenge.
"UKIP has done enough to make a big impact at the 2015 general election, but the question is what happens after that?" asks Professor Goodwin.
The young activists I interviewed are optimistic. Life for them has already changed considerably since their introduction to UKIP.
"When I joined I was the only young UKIP member in Shropshire," says Thomas Hoof.
"If you look back five years, UKIP was full of older people," says Laura Howard. "There wasn't much of a social network for young members. But now there's a group of us. We go out campaigning and afterwards we go to the pub."