Lib Dem MP seeks debate on new online porn laws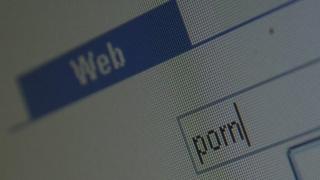 New laws that ban certain types of online British porn from being viewed should be debated by MPs, according to a Liberal Democrat MP.
Regulations introduced on 1 December bring video-on-demand online porn under the same restrictions as R18 material sold in licensed sex shops.
The government says the law is needed to ensure consistency.
But Julian Huppert says governments should not be preventing adults from viewing legal and consensual sex.
He says any decision to ban things should be based on issues of "consent" and "genuine risk", not moral objection.
Video produced abroad can still be viewed by adults in the UK, but content filmed here faces the new restrictions.
R18 material
Chris Ratcliff of adult broadcaster Portland TV has said the changes put the UK industry at a disadvantage compared with overseas competitors, and predicted there would be "an exodus of companies" from the country.
Protesters are to stage a demonstration outside Parliament on Friday in objection to the changes.
The Audiovisual Media Services Regulations 2014 became law on 1 December this year.
They require UK producers of porn distributed online to adhere to guidelines set by the British Board of Film Censors (BBFC) for R18 rated material, which primarily concerns "explicit works of consenting sex or strong fetish material involving adults".
Certain content is not acceptable in R18-classified work, including "the portrayal of sexual activity which involves real or apparent lack of consent" and "the infliction of pain or acts which may cause lasting physical harm".
As a result of the laws now applying to online porn, video-on-demand that would be given an R18 certificate by the BBFC must have effective age verification controls to prevent the content being viewed by under-18s - which Mr Huppert supports.
Any material which the BBFC would refuse to give a classification to must not be shown on online video-on-demand services at all.
Mr Huppert says: "It means that all video-on-demand services that originate from the UK can't show various acts, such as spanking."
He added: "It seems to me to be very odd to say that this, assuming it is consensual, is acceptable for somebody to do in their own home, for them to photograph it, film it, but not to look at it online if it comes from the UK.
"To me the case for banning things should be driven by issues around consent, and around genuine risk, not about whether we happen to like things or not."
A spokesman for the Department for Culture, Media and Sport (DCMS) said: "The legislation provides the same level of protection to the online world that exists on the high street in relation to the sale of physical DVDs.
"In a converging media world these provisions must be coherent and the BBFC classification regime is a tried and tested system of what content is regarded as harmful for minors."
Early Day Motion
The regulations were implemented without parliamentary debate because they transpose existing laws on to the online world, rather than create new legislation.
But Mr Huppert says Parliament should be given an opportunity to discuss the changes, so MPs can consider whether they support them.
He has tabled an Early Day motion - which is essentially a proposal for a parliamentary debate - which calls for the regulations to be annulled.
It has secured the signed support of three MPs, fellow Lib Dems David Ward and John Leech, and independent MP Mike Hancock.
Tabling an Early Day Motion does not provide a guarantee that a debate will take place but are often used to enable MPs to express their opinion on a subject and to canvass support for their views.
However, if an e-petition on the subject received at least 100,000 signatures, it would be eligible to be considered for debate in the House of Commons. On Thursday morning a petition on the subject had 3,300 signatures.