Hong Kong: MPs urge stronger UK response to visit row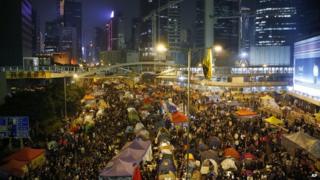 The UK must respond "more robustly" to China's ban on a Commons committee visiting Hong Kong, MPs have said.
Beijing has accused the foreign affairs committee, which is looking into relations between Hong Kong and the UK, of "meddling" in its internal affairs.
Committee chairman Sir Richard Ottaway said the move was an "unprecedented and overtly confrontational act" and the UK response had not gone far enough.
He wants the Foreign Office to summon the Chinese ambassador over the issue.
The committee was due to visit Hong Kong before the end of the year as part of its inquiry into relations with the former British colony, 30 years after the signing of the 1984 joint declaration in which the UK agreed to transfer sovereignty to China.
But it was told that it was not welcome in Hong Kong, even though British nationals do not need visas to enter the former colony.
'Insult'
Beijing's exclusion of the committee comes against a backdrop of months of protests in Hong Kong about the pace of democratic change and controversy over the process for electing a chief executive in 2017.
Publishing a report on the issue, the committee said the UK government's response to the ban had not gone "far enough".
Following a debate in the Commons on the issue earlier this month, the Foreign Office Minister Hugo Swire said the ban was "wholly unjustified", and argued that the government had been "robust" in its response.
The Foreign Office said British diplomats had raised the matter with their Chinese counterparts in London, Beijing and Hong Kong, while the foreign secretary had spoken to his opposite number about the issue.
But the committee said the UK should make a formal written protest to the authorities in Hong Kong and China and raise the matter with its European partners.
"The Chinese government's decision to prevent the foreign affairs committee entering Hong Kong is an insult to the House of Commons and the UK as a whole," Sir Richard said.
"We consider that the minister's reply did not go far enough, given the gravity of the circumstances.
"We call on the government to respond more robustly to this unprecedented act by the Chinese government."
He said the committee would continue to engage with the Chinese and Hong Kong authorities in the hope that the visit could be rescheduled.