Prime Minister's Questions: Harman and Clegg clash over help for women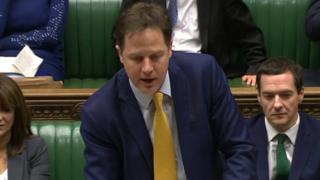 Deputy Prime Minister Nick Clegg has defended the government's record after Labour's Harriet Harman said he was "out of touch with women's lives".
Ms Harman claimed tax and benefits changes had hit women hardest.
She also challenged Mr Clegg over the lack of Lib Dem female Cabinet ministers.
Deputising for David Cameron at Prime Minister's Questions, the Lib Dem leader accused Labour of living in "cloud cuckoo land".
Mr Clegg said women were doing much better under the coalition than under the previous government, accusing Labour of being "in total denial" about its record.
'Total shame'
BBC political editor Nick Robinson said Ms Harman had been "politically clever" in trying to "box" Mr Clegg into "looking and sounding like a Tory".
Labour's election hopes rest on securing Lib Dem supporters, he said, adding: "If you are a Lib Dem watching that you might have your head in your hands."
Ms Harman, who was standing in for Labour leader Ed Miliband, used her series of questions to try to portray the government as anti-women.
She said there had been a 90% fall in women pursuing sex discrimination cases since tribunal fees were introduced, and that two thirds of those affected by housing benefit changes to remove what the government calls the "spare room subsidy" - which Labour dubs the "bedroom tax" - were women.
Meanwhile, 85% of the beneficiaries of cuts to the top rate of income tax had been men, she added.
"Of the £26bn this government has raised in changes to benefit and direct taxes, a staggering £22bn of that has come from women," she said.
But Mr Clegg accused Ms Harman of political point scoring and said it was time to "call out" Labour on its record in power.
He said female unemployment increased by 24%, and the state pension only rose by a "paltry" 75p. "Scandalous, a total shame," he said.
'Wiped out'
Under the coalition's pensions reforms, he added, 650,000 women would get an extra £400 a year from 2016.
"I care more about [them more] than I do about anyone around the cabinet table," Mr Clegg said.
He also said "millions" of women had benefited under the coalition government from more jobs, tax cuts, shared parental leave, better child care and more flexible working. And he cited increases in the personal income tax allowance.
Mr Clegg said: "We have cut tax for 11.9 million women - the gender pay gap for women under 40 has pretty well disappeared under this coalition.
"Under Labour, only one in eight of FTSE board members, under this government there are more women on FTSE 100 boards than ever before."
But Ms Harman said that any gains from tax cuts had been "wiped out" by cuts to tax credits.
She responded: "He has just demonstrated he is completely out of touch with women's lives. It's always the same with this deputy prime minister. He talks the talk but he walks through the lobbies with the Tories. He briefs against them but he always votes with them."
'Reigning men'
Ms Harman, who is in charge of Labour's strategy to win women's votes at the general election, also attacked the Conservatives' record on the selection of female candidates for parliamentary seats, saying David Cameron had "failed to act on his women problem".
She claims Labour research shows 100 of 130 Conservative candidates in battleground seats are men and says that if the Conservatives held all their existing seats and win their top 40 targets, four-fifths of Tory MPs would be men.
Ms Harman said that more than half of Labour's target seats, and three quarters of seats with a retiring Labour MP, had selected women candidates.
But a Conservative spokeswoman said: "These figures are wide off the mark. Ms Harman's definition of battleground seats is completely fictitious and designed to distort the facts.
"The truth is, more than 36% of all our candidate selections to date are women - and that's a stat that's steadily improving.
"But of course we recognise we have further to go to encourage more women to put their names forward for selection by their local associations."