Ed Miliband hails transgender Labour candidate Emily Brothers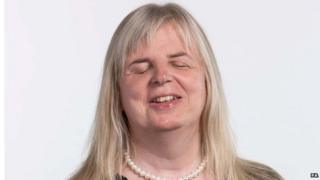 Labour leader Ed Miliband says he is "so proud" that his party has selected a transgender parliamentary candidate to stand in May's general election.
Emily Brothers, who will contest the seat of Sutton and Cheam, said she wanted to be "a positive role model".
Mr Miliband said Ms Brothers, who lost her sight to glaucoma as a child, was a "courageous campaigner".
She is believed to be the first openly transgender person to run for Westminster from the Labour Party.
Ms Brothers was selected last month to run in Sutton and Cheam, in South London, a seat currently held by Liberal Democrat Paul Burstow.
'Too few'
She discussed her past in an interview with Pink News, saying: "In an ideal world I wouldn't be speaking out about my past because it's very private; however I recognise that as a politician the key thing is trust.
"I don't want to be somebody who has notoriety as having a transgender background, but I also believe it's an experience that has value to it, that I can be a positive role model."
She also told the London Live TV channel her transition had initially been difficult for her two children and ex-wife, but that they had a "great relationship" now.
With the general election approaching, she said she felt "this was something about my past, that at some point would come out and it was important for me to be honest about my experience".
According to her website, Ms Brothers stood for Labour in local elections in 2010, has worked for the Equality and Human Rights Commission and campaigned for the introduction of disability living allowance in the 1980s.
Writing on Twitter, Mr Miliband said Ms Brothers was "an important voice in our movement".
He added: "Emily Brothers has long been a courageous campaigner on disability rights and now on trans issues too."
Labour MP Gloria De Piero, the party's women and equalities spokeswoman, said there were "too few trans, disabled and women voices in politics", saying Ms Brothers would change this.