DUP rules out post-2015 Westminster coalition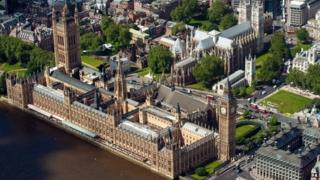 The Democratic Unionist Party has ruled out entering into a formal coalition at Westminster if the 2015 election creates a hung parliament.
It is understood to be willing to "shore up" a future administration, but is not interested in a cabinet role.
The DUP is the largest party in Northern Ireland, and the fourth biggest in the UK Parliament.
It said it would consider supporting a government, dependent on securing the best deal for Northern Ireland.
The DUP is expected to returns its eight MPs to Westminster at the general election next May, but is targeting a ninth seat.
While remaining coy about any future deal, deputy leader Nigel Dodds said there had been a lot of interest from other parties at Westminster about the party's intentions in the event of another hung parliament.
"Certainly there is a lot of interest and we're very happy to talk to everybody as always," he said.
Tax-raising powers
The DUP is economically right-of-centre, and has longstanding policies aimed at strengthening Northern Ireland's private sector.
The attraction of foreign direct investment remains a key goal, and it has lobbied hard for the devolution of corporation tax-raising powers, which has been agreed in principle by the Treasury.
Mr Dodds said that the party's shopping list would include further financial support, were it to support a future administration.
The Northern Ireland power-sharing executive has yet to implement the coalition's welfare cuts, and has struggled to agree a budget following reductions in its block grant from Westminster. Both issues are the subject of intense negotiations at Stormont in which Prime Minister David Cameron is due to take part on Thursday.
Mr Dodds said it was an exciting prospect for his party to be at the negotiating table at a time when the future of the UK, and its participation in the EU are being decided.
The largest nationalist party, Sinn Fein, is likely to hold its five seats at Westminster, although it insists its MPs will not take them, in line with their abstentionist policy.
The Social Democratic and Labour Party - which has three MPs and which has been described as a "sister party" of Labour - has also refused to say what it might do in the event of a hung parliament.
SDLP leader Alistair McDonnell said he was an admirer of the SNP's administration in Scotland, and conceded that his party would be more likely to deal with Labour than any other party.