UKIP suspends general secretary Roger Bird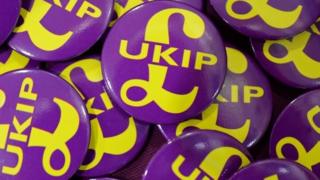 The UK Independence Party has said it has suspended its general secretary following allegations of impropriety.
UKIP said Roger Bird had been suspended on 7 December pending a full investigation into the allegations relating to candidate selection.
A party spokesman declined to discuss the nature of the allegations, saying it was an "internal party matter".
But the party said it had acted "swiftly and decisively" when the allegations came to light.
It is understood there is no illegality or police involvement in the matter.
While declining to elaborate further, UKIP said the suspension did not relate to a recent row which reportedly saw more than a dozen party activists quit the party over leader Nigel Farage's handling of the candidate selection process.
In a statement, UKIP said: "Shortly after a claim came to light about the conduct of Mr Bird with regard to candidate selection, the UK Independence Party took action swiftly and decisively, including steps involving external human resources consultants, as well as following due process and the party's constitution to the letter."
A spokesperson added: "Unfortunately, UKIP has had to suspend Mr Bird pending a full investigation into allegations made against him. The party has acted swiftly and decisively and will not tolerate impropriety of any kind amongst its staff."