Anna Soubry on impersonations, bottoms and immigration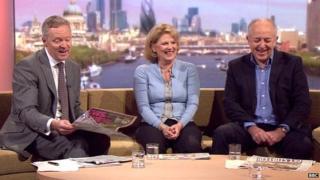 When I meet the defence minister Anna Soubry in her constituency for a late lunch, I'd only moments before watched a recording of her on The Andrew Marr show last year.
Right at the end of the programme, as the credits were about to roll, she referred to UKIP leader Nigel Farage in fairly graphic terms, particularly for a breakfast audience on a Sunday morning.
"Are you really allowed to say that?" asked fellow guest Rory Bremner at the time. Peter Mandelson, who was also on the show that day, placed a hand on her arm and said, "Anna, Anna, please it's too early for that".
After ordering her curried sweet potato soup and my toasted sandwich, I have to ask about it. What was she thinking?
"I blame Rory Bremner" she says. She only agreed to be on the show because she'd always wanted to meet the impersonator.
They got on very well, so well in fact that when they were on air she says she "sort of, I don't know, I just almost forgot that people were actually watching it".
'Grafters'
It's typical Anna Soubry. She is fearless and she accepts she "may be a bit stupid at times". She is a what-you-see-is-what-you-get kind of a woman, who is now a little irked.
"I don't want to spend my lunch talking about the leader of a very small party; that will get me into trouble as well."
She won her Broxstowe seat last time round by the slenderest of margins. Labour were within whispering distance. "The next election is a fight between the Conservatives and the Labour Party. Certainly it is in this constituency. With a majority of 389, a vote for anyone else other than me is going to make sure that Labour gets back in."
Anna Soubry grew up near Worksop, not a million miles from where we're sitting in Beeston, in Nottinghamshire.
She's slight, bright and comes from a family of "grafters", she says. When she was eleven her father's business went bankrupt. Her mother went back to work. "She had to be very strong," she says.
"I was naturally opinionated" she adds, and it probably helped her at school where she was teased for having a posh voice.
Class politics
I ask her about that Emily Thornberry tweet, a photo from Rochester of a house dressed in a couple of union flags and a white van parked outside.
"It was insulting…actually I know Emily and so there's an element of, you know, I think basically she's a good person, but it's terrible when you're sneering."
"Was it?" I ask.
"Oh yes, it was..." and in an upmarket voice she continues, "good heavens, I've never seen a place like this before…I nearly tweeted you should see my brother's house.
"William lives in a three bedroom semi in Hucknall, I don't have a problem with that... I think the problem is that people assume things about politicians, notably about Tories, and they still think that we're rich toffs and we've come from rich toff-like backgrounds and it always makes me laugh, because overwhelmingly apart from certain people at the top of the party, it's just not true."
She's not one to hang back, reserve her opinion. If she sees a fight, her instinct is to jump right in, shouting "oi". It's a conscious decision she's made to intervene.
When she was fourteen, walking back home from school, she witnessed a group of girls racially harassing a girl who lived next door to her. "They were saying things to her like; where did you get this colour of skin from? So where are you from, what's your dad? And all this sort of thing…. I didn't intervene, she was never threatened nothing like that…but I made a resolution then that I would never, ever again in my life, ever, walk away from something. It had a profound effect…. I felt so ashamed."
She describes herself as an instinctual politician, not intellectual, and says she doesn't have time to read. "I was never a bookworm at all".
Reading habits
She tells me she got told off by fellow Conservative MP Nicholas Soames the other day, who asked her if she'd read a certain article. When she said no he commented that she didn't read enough.
But there is one exception to this. "I am obsessed by Kim Kardashian, I do try to find out what Kim's up to."
I didn't expect Kim Kardashian to come up over lunch. Why Kim?
"Because I think she is the most appalling role model… I mean she's probably a very nice person, who has a body in my opinion, that is not a normal body, she may not have had anything done to it, frankly I'm struggling with that… I have always said to my daughters 'like your body, be healthy, and don't obsess about this stuff and just get on and enjoy your life'."
She adds: "There was something about her bottom wasn't there? It's just appalling."
Before we met, Anna Soubry had spent the morning at her local Muslim centre with the cabinet minister Sajid Javid. They had a good debate.
"I love all of that stuff because that's what politics is meant to be about, having a debate and winning arguments and that's why on immigration I do get very agitated because we have to have an informed debate."
'False fear'
I mention the speech David Cameron made recently on immigration, in which he set out plans for stopping EU migrants from claiming in-work benefits, such as tax credits, and getting access to social housing for four years.
In response, she strikes a note of caution. "I want to know and understand why my prime minster, who I have huge amounts of respect for, I genuinely do, and I think has done an outstanding job, I want to know why he's come to that conclusion, so I look forward to reading it in better detail and understanding the arguments."
She is clear about wanting the debate on immigration, but, adds: "What's worrying me…. what I want to be really sure about, is that the real problem that exists with migration, is it actually the fact that people might be able to claim benefits and I'm told that in fact the number of migrant workers from the European Union that come here and claim benefits is actually terribly small.
"So if we are going to obsess about something that actually isn't a huge problem we have to be careful about those things. There's a danger that you create false fear and prey to people's prejudices."
She is leaning towards me. This subject is very close to her heart. Later on she says that if her views on immigration and single sex marriage means she loses votes, so be it.
"Never mind what I said about Nigel Farage and fingers and bottoms and things. Actually it was what I said about Mr Farage back in 2013 (on Question Time), which is when I said to him, 'people come here to work, and with few exceptions, just like British people, these are good, decent, honest people and we should welcome them to our country'."
After those comments, she tells me that Lynton Crosby, the so-called master of the black arts behind the scenes in the Conservative Party, David Cameron and Ed Miliband all congratulated her. "That was the right thing to say," she adds.
Impersonations
We're onto coffee and it's getting dark outside. No pudding. Anna is off to the pub later. She calls herself an old feminist. She is on her third career; journalist, criminal barrister, MP and government minister.
She's had two husbands and is now with her partner Neil. The second marriage break was very painful she says, "I was terribly upset when it ended. But these things happen, I was single for eleven years."
It was her daughter and her school friend who played match makers, bringing their single parents together. "You see Neil's not involved in politics at all, he's completely normal. I've never had a best friend until I met him. He's brilliant."
It's now drizzling outside and dark, but before we leave I ask her to give me a few of her impersonations.
She does a cracking Ken Clarke, a mean Margaret Thatcher and several others which make me laugh out loud, LOL. If she loses her seat in 2015 I reckon she could be a stand-up.
I suggest it, and her sharp burst of laughter bangs off the walls. She may be slight, but her laugh is huge. "Neil has that lined up for me."
Listen to Becky's Milligan's full PM interview