UK accuses Spain in Gibraltar airspace row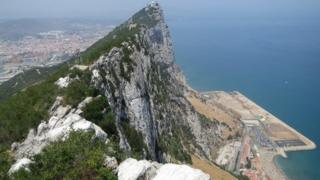 The UK has accused Spain of "political point-scoring" amid a row over whether Gibraltar should be included in a new EU-wide aviation agreement.
British Foreign Secretary Philip Hammond said Madrid was trying to "force negotiations" over Gibraltar's sovereignty as part of talks over modernising European airspace.
Mr Hammond has spoken to his Italian counterpart to express his concerns.
But Spain said the future of Gibraltar was of "vital territorial interest".
Spain has contested the UK's claim to Gibraltar - a British overseas territory - for centuries, but tensions have increased markedly this year amid a row over fishing rights.
The Foreign Office has said there have been more than 600 Spanish incursions into British waters since the start of 2013.
'Distraction'
The two countries are now at odds over the issue of Gibraltar's inclusion in the latest phase of the EU's Single European Sky project, which seeks to make air traffic management more efficient and harmonise standards.
In a strongly worded statement, Mr Hammond said Spain was unwilling to agree that the latest package of proposals, which will reform the delivery of air navigation services, should apply to Gibraltar and was holding up their ratification.
"An important piece of legislation for member states and industry has been held up by political point-scoring on the part of the Spanish," he said. "British sovereignty over Gibraltar is an issue outside the competence of the EU and a distraction."
The Foreign Office said Mr Hammond had called Paolo Gentiloni, his Italian counterpart, to reiterate that the UK "will never enter into arrangements under which the people of Gibraltar would pass under the sovereignty of another state against their wishes".
Mr Hammond added: "We are confident that the EU will have no option but to follow its own laws and apply the legislation to Gibraltar."
Veto threat
The latest measures were discussed by the EU Transport Council this week but cannot be adopted until the final text has been agreed by all 28 member states.
El Pais newspaper said Ana Pastor, the Spanish public works minister, had threatened to veto the new regulation if it applied to Gibraltar, arguing it was a "matter of state of vital interest to Spain, since it affects its sovereignty and territorial integrity".
The newspaper suggested the UK had rejected a "compromise" proposal put forward by Italy, which holds the rotating presidency of the European Council, to leave its application to Gibraltar pending until the two countries had reached an agreement.
The Single European Sky project began in 1999 and existing regulatory arrangements in the areas of safety, network capacity, performance and environmental impact all apply to Gibraltar.