Tony Blair says politicians are underpaid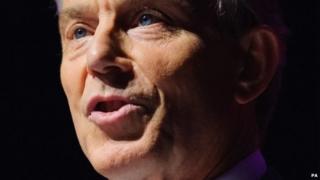 Politicians are not well paid compared with leaders in the private sector, Tony Blair has warned.
Better salaries would improve the "gene pool" of political leaders, he wrote in an article in the New York Times.
The former Labour prime minister also said too few politicians had real-life experience in positions outside of politics.
The comments came in a wide-ranging piece about the "malaise" in democracies across the world.
"Only an ex-politician can say this - politicians are not really well paid by the standards of the private sector," Mr Blair wrote.
"This restricts the attractions of a political career, at exactly the time when we most need the gene pool of our politicians to be varied, vibrant and vigorous."
MPs are currently paid £67,000 a year but the Independent Parliamentary Standards Authority, which now sets the level of pay, has said their salaries should rise by 9% to £74,000 next year.
'Life outside politics'
Mr Blair, who was an MP between 1983 and 2007, said earlier this year that reports that he has earned up to £100m in the private sector since leaving parliament were exaggerated.
Mr Blair, who was a barrister before becoming an MP, said his own experience outside politics had been invaluable.
"How many leaders and, for that matter, followers in a parliament or congress have real-life experience in responsible positions outside of politics?
"Today it is very common for a young person interested in politics to graduate from university, go to work for a politician as a researcher or political analyst, and then transition straight into an elected position.
"I only spent seven years working in the private sector before entering politics, but it was a crucial, formative time. I learned about business and about people in a way that was greatly beneficial when I later came to govern.
"In particular, I learned the difference between academic political ideas and policies suited to 'real world' application."
The article addressed the challenges facing democracies across the world, including slow economic growth and a lack of effectiveness in public services.
Business lessons
Mr Blair argued that political leaders need to learn from the dynamism of the private sector.
"Examine the changes in the private sector over the past 20 years, " he wrote.
"Look at the top companies by market capitalization and how new names have displaced the old. This is the way of the world, except in government. We go along in the same old way - unable to change, due in part to top-down bureaucracies that manage the status quo instead of changing it.
"Technology alone could transform the way education and health care work. It could revolutionize learning and teaching. It could create whole new pathways of diagnosis and treatment. In the best places this is happening, but not in most.
"It is this - the efficacy gap - that is the real cause of political disillusionment and why people go running after populist solutions that aren't really solutions at all. This is what we need to fix."
'Loudmouth'
Another passage of the article focused on the "revolutionary phenomenon" of social media, warning about the dangers of "governing by Twitter feed".
"Waves of emotion on issues used to build to tidal strength relatively slowly; they now reach tsunami force within days, even hours," Mr Blair - who famously did not use a mobile phone while he was in No 10 - said.
"Politicians' desire for impact too often obscures the value of balance. Political leaders find this quite disorienting. A leader has to calibrate leadership and public opinion, be out in front of it, but not too much so.
"Social media is exciting and can effect real and positive change, but it is also the domain of the loudmouth - and those who shout loudest don't necessarily deserve to be heard most."
Mr Blair insisted "governing involves difficult choices, and politicians ought to be respected for making them, not abused".