Former Liberal leader Jeremy Thorpe dies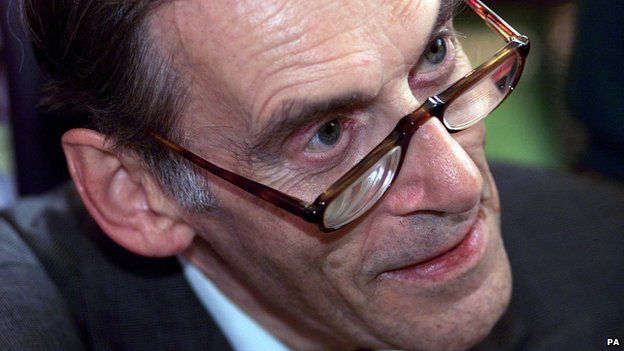 Former Liberal Party leader Jeremy Thorpe has died aged 85 after a long battle with Parkinson's Disease, his son Rupert has announced.
He was elected leader of the Liberals in 1967, promising to turn the party into a radical pioneering force.
But his political career ended when his life was engulfed in scandal and he faced trial on charges of conspiracy and incitement to murder.
He stepped down as leader in 1976 and was cleared of the charges in 1979.
Mr Thorpe resigned as Liberal Party leader after allegations of an affair with a former male model, Norman Scott, at a time when male homosexual acts were illegal.
Along with three other men, he was later charged with conspiracy to murder Mr Scott, but all the men walked free from court after a 31-day trial.
The court case was halted for eight days at his request so he could contest his North Devon seat in the May general election. He was heavily defeated.
The episode, which attracted press coverage from around the world, resurfaced when one of Mr Thorpe's co-defendants wrote an article for the News of the World, claiming the former party leader had incited him to murder Mr Scott. Mr Thorpe's solicitor issued a rebuttal and the director of public prosecutions said there was no question of another trial.
Lib Dem MP Sir Nick Harvey, who represents Mr Thorpe's former constituency, described him as a "towering force in shaping the political landscape of the late 20th and early 21st centuries".
Former Lib Dem leader Sir Menzies Campbell said: "Jeremy Thorpe's enforced resignation as leader of the Liberal Party and his subsequent departure from Parliament should not obscure the fact that in his day he was an outstanding parliamentarian with a coruscating wit, and a brilliant campaigner on the stump whose interest and warmth made him a firm favourite with the public."
Lord Steel of Aikwood, who succeeded Mr Thorpe as party leader, said he had a "genuine sympathy for the underprivileged", both in his constituency and in Africa, where he campaigned against apartheid.