European court rejects Geoff Hoon's human rights complaint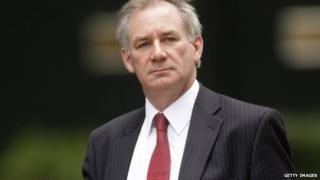 A parliamentary investigation into the conduct of the former Labour MP Geoff Hoon was justified, according to the European Court of Human Rights.
Mr Hoon was one of a number of Labour MPs secretly filmed offering lobbying services to a fictitious company in 2010.
He was later found to have brought parliament into disrepute.
The Strasbourg court rejected his complaint that the investigation and report had breached his human rights.
The case concerned an investigation into Mr Hoon's conduct by parliamentary authorities after he had been secretly recorded in 2010 by a journalist posing as a prospective business associate.
The former defence secretary was one of a handful of MPs, including Stephen Byers and Patricia Hewitt, who were targeted in an undercover operation by Channel 4's Dispatches and the Sunday Times.
Commons pass
Mr Hoon, who was a voluntary adviser to NATO, was recorded saying he wanted to make use of his international knowledge and contacts in a way that "makes money" and that he charged £3,000 a day.
He later apologised, saying he had "certainly got it wrong".
"I should have known better," he told the BBC in March 2010. "I should not have said some of the things I said.
"I accept that in the course of that conversation I said a number of things that because I thought I was engaged in what was an informal chat - wasn't leading to any particular position. I recognise that I was guilty of... showing off, I think is probably the best expression I could use. I was trying to impress, I was trying to demonstrate my knowledge and experience, background in a particular sector."
Mr Hoon's conduct was subsequently investigated by the Parliamentary Standards Commissioner. In a report in November 2010, the commissioner found that Mr Hoon had breached the MPs' code of conduct and had brought the House of Commons into disrepute.
The commissioner's report was sent to the Commons Standards and Privileges Committee which took evidence from Mr Hoon.
Human rights complaints
In its report, published in December 2010, the Standards and Privileges Committee agreed with the findings of the Parliamentary Standards Commissioner.
Mr Hoon's Commons pass was revoked for five years. He stood down as an MP in May 2010.
Mr Hoon lodged a series of complaints with the European Court of Human Rights.
He argued that the parliamentary proceedings had violated his right to a fair hearing as he had not had access to a court to challenge the claims against him.
He also contended that the parliamentary authorities had failed to respect his right to private life, arguing that his conversation with the reporter was private and related to his future employment as a private citizen. The widely-publicised decisions of the commissioner and the committee also violated his private life, he said.
But in a judgement on Thursday, the European Court of Human Rights rejected all Mr Hoon's complaints.
The complaint over his right to a fair hearing was inadmissible, the court said, and the "interference" with Mr Hoon's private life had been "proportionate". Mr Hoon's complaint over privacy was "manifestly ill-founded", the court said.
Mr Hoon, a former barrister, was the MP for Ashfield between 1992 and 2010.