Autumn Statement: A pre-election Budget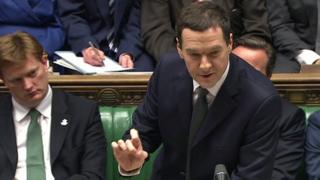 In all but name this was a pre-election Budget.
From his first to his last sentence - from boasting about Britain's growth to unveiling the Coalition's version of the mansion tax - Chancellor George Osborne delivered his Autumn Statement with not just one eye but both fixed firmly on polling day.
Aware that Labour's most potent political charge is that the Tories are on the side of the wrong people, the chancellor unveiled a series of tax hits on the rich - not just mansion buyers but non-doms too, as well as tax-avoiding banks and multi-national corporations.
The money raised by that "hit the rich" populism was spent on help for those that politicians like to call the "hard working", in the form of tax cuts - on their earnings, kids' flights, inheriting an ISA but, most significantly of all, anyone buying a house worth less than a million pounds.
Some Conservative cheerleaders are already hailing a Robin Hood package.
Against the big economic picture revealed in the latest official forecasts all of these announcements were largely irrelevant.
The unalloyed good news - the fastest growth of any advanced economy in the world, falling unemployment and inflation - was accompanied by the undoubted bad news about the state of the public finances. The deficit is not coming down at the speed the chancellor promised just a few months ago at the time of his real Budget.
At any other time that would have ensured that the political debate would have focussed on what more should be cut and what taxes could be hiked to try to curb Britain's borrowing. We didn't, though, hear that from either the chancellor or his shadow counterpart, Ed Balls.
In the run-up to an election there is, as someone observed recently, not just a massive budget deficit but a ballooning candour deficit.