David Cameron wants to do more 'mentoring'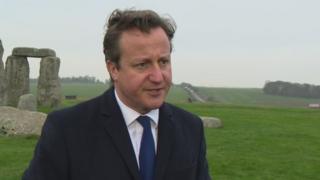 David Cameron says he would like to spend more time mentoring people to help them with their CVs and in job interviews.
The prime minister said transferring skills to others who had not had the same opportunities in life was "one of the best things people can do".
He also told ITV's Good Morning Britain every member of the Cabinet would be trained to be a "dementia friend".
The Alzheimer's Society initiative helps people living with the condition.
The PM said he had already received the training but added that the first part of today's Cabinet meeting would be devoted to training the rest of his ministers.
And expressing a desire to follow his wife Samantha's lead and do more mentoring, he told broadcaster Philip Schofield: "Something politicians are quite good at actually is helping people with, whether it's interview skills or CVs or just giving people a bit of confidence.
"Sam does a bit of that, I have done a bit in the past and hopefully do a bit more in the future."