Penny Mordaunt speech: Fowl play or light-hearted fun?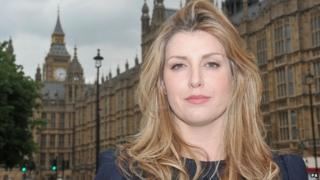 If you ring the Parliamentary Under-Secretary at the Department for Communities and Local Government and Honourable Member for Portsmouth North, you may just be greeted by her voicemail message.
"I'm receiving a lot of telephone messages at the moment," Penny Mordaunt has recorded, suggesting that those hoping to have a chat drop her a text message instead.
I hazard a guess that a fair proportion of calls are not about her official government responsibilities, which take in "coastal communities", "enterprise zones" and "resilience".
Instead, they may just be about a blink-and-you-miss-it speech Ms Mordaunt made more than 18 months ago (and whether people blinked or not, everyone did miss it).
It was the Easter Recess debate in the Commons in 2013, a chance for MPs to discuss a whole host of different topics, to a usually less-than-packed chamber.
Ms Mordaunt's choice of topic was the welfare of hens.
But it turns out that alongside references to the British Hen Welfare Trust there were liberal mentions of the abbreviation for cockerel, all part of a bet she'd had.
She admitted as much last week.
The question is, was this an outrageous demeaning of Parliament, or a bit of light-hearted fun that shows politicians can be human?
The Mail on Sunday managed to make a front page out of it, and some are less than amused by her antics.
But plenty, from all sides, can't get that worked up about it.
Labour's Jamie Reed, the Conservative Mary McLeod and Norman Baker, a Liberal Democrat, all agreed that in the grand scheme of things, it didn't amount to much of a big deal, when they appeared on BBC2's Daily Politics.
And Ms Mordaunt's boss, the prime minister, seems relaxed - if his official spokesman is anything to go by.
Asked about it at this morning's Lobby briefing for political reporters, the spokesman couldn't resist a series of puns.
"Oh, err, gosh, I'm not sure I can offer anything new, you might say I'm going to chicken out of that one," he said, to inevitable groans.
"I wondered where that story would come in your pecking order," he added, before admitting he had many more "fowl puns", he had worked up, if we wanted to hear them.
Smiles all round, we politely declined.