Jeremy Paxman rules out London mayoral bid after 'Tory approach'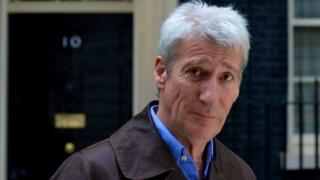 Broadcaster Jeremy Paxman has said he was approached to become a Conservative candidate in London's mayoral election.
The former Newsnight host said he had been invited to meet Prime Minister David Cameron to discuss the idea.
But he said he decided a week ago he would not enter the running to replace Boris Johnson in 2016 "for all the eclairs in Paris".
Earlier The Times reported an approach to Mr Paxman had "excited" Tory MPs but had not been backed by Conservative HQ.
Mr Paxman responded to the Times story in a series of tweets posted by his agents Capel and Land.
He said: "The only thing wrong with the story in The Times today that I am going to run as the Tory candidate for London Mayor is that it is what is known in the trade as fantasy.
"It began life as a Boris Johnson joke. I was indeed approached about the gig and invited to see David Cameron to discuss the idea... I decided a week ago that I wouldn't take it on for all the eclairs in Paris."
Mr Paxman hosted his final edition of Newsnight in June, after 25 years fronting the programme.
He is set to host Channel 4's coverage of the 2015 general election.
So far, entrepreneur Ivan Massow is the only person to have have put themselves forward to be the Conservative candidate, while Labour contenders include former Culture Secretary Tessa Jowell and MP David Lammy.