Jon Cruddas: UK in need of radical government reform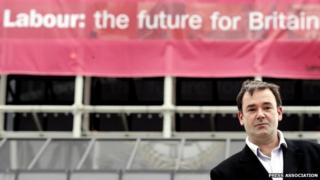 The British state is "no longer fit for purpose" and people are "disenchanted" by party politics, Labour's policy review chief Jon Cruddas has claimed.
He said political parties were at risk "of being past their sell-by date".
Labour would have to harness modern technology to bring government "closer to the people", he argued.
In a speech to the Institute for Government, Mr Cruddas warned: "People feel a sense of being locked out of government and they know it."
Mr Cruddas has been put in charge of Labour's policy review ahead of the 2015 election.
'Not fit for purpose'
The Dagenham and Rainham MP repeated his view that Labour had been damaged by the acrimony of the Blair-Brown years.
He said that the British state had been "designed in the industrial age of mass production and mass administration".
"It is no longer fit for purpose in this digital age of real-time innovation, cloud computing and rising popular expectations for rapid service delivery."
And he added: "It is over-centralised and undemocratic."
'Locked out of government'
He said people in the modern UK felt a "sense of abandonment" about politics.
"They are losing confidence in the ability of our public institutions to serve a notion of the common good," he said.
"Those who take decisions on behalf of others, whether in the public or private sector, are too often unaccountable."
He argued: "Our established political parties are in danger of being past their sell-by date.
"Their tribes are shrinking, their membership is declining, their hierarchies and bureaucracies too slow and cumbersome.
"Arguably they stifle innovation, creativity and initiative."
He said that where once political parties were "vital intermediary institutions between people and the state", in some parts of the country they had "become so disconnected from society they can no longer fulfil this role properly".
And he called for greater use of technology to create "a new way of governing our country".
On Tuesday, his colleague Chi Onwurah launched Labour's Digital Government Review: "An independent report setting out a vision for a new model of digital government."
'City nodes'
Mr Cruddas called for a "more federal union, which gives English, Scottish and Welsh people a stronger voice and more control over their lives and a new model of the state to do it".
He invoked Harold Wilson's celebration of the "white heat" of the scientific revolution to argue that technology could assist in redesigning the British state, and to claim that it would once again cast Labour as "the party of hope and modernity".
"Renewing the UK will require a new model of state, democracy and innovation," he said.
"I just don't mean bolting this onto the existing one, I mean let's build an entirely new digital machinery of government alongside the existing state so that we can create an efficient system and transform the relationship between the citizen and the state."
He said the Government Digital Service could create "city nodes", which would see city governments some aspects of central government alongside the provision of local services.
For illustration, he said: "Birmingham could run the pan-UK digital platform for social care; or Manchester - planning; or Swansea - motoring: or Newcastle - tax; or Liverpool - pensions."
'Modern Magna Carta'
The Labour Party has already committed to much more devolution, and has said it will order Whitehall departments to base some civil servants outside of London.
Mr Cruddas said: "In the pre-digital era we needed departments in Whitehall because we literally had to move files around on trolleys. We don't now, which means we can bring government closer to people."
And he called for a "digital revolution - a modern Magna Carta" to provide citizens with rights over their data.
Recalling Labour's election wins in 1945, 1964 and 1997, Mr Cruddas claimed: "I think we can do that now if we really lock in a story about technological change, around digital connectivity, democracy, and power and agency and human well-being."
In the same vein, he criticised the "gang wars and drive-by shootings" of the New Labour years, and said the friction between Tony Blair and Gordon Brown had damaged the Labour party.