Why the lives of pensioners pose questions for politicians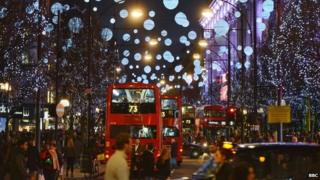 It might be pathetic, but about this time of year I start to feel rather twinkly, a smile comes to my face when I hear department store Muzak belting out those familiar tunes, and for once the crush on Westminster or the West End doesn't bother me.
As long as I can get most of my shopping done online and in one frenzied assault on one large, well-known shop, it's Christmas! I'm delighted!
I'm just as happy as when I was six, as long as it's not only a tangerine in my stocking.
Except, as I confess to perhaps a little bit of frazzle creeping in around the edges this year (must be the extra late nights on Newsnight), it strikes me that isn't it in fact a rather good idea if we don't get stuck in the same groove, but look again at things and, more to the point, examine our own early instincts too?
As Paul Johnson, from the Institute for Fiscal Studies think tank, points out this week, pensioners are not a poor group any more.
Of course there are pensioners who live in poverty.
But the real people who are the demographic, not the cliche, are doing comparatively well.
They are not, repeat not, the same group they were when politicians of this generation were growing up.
That fixed image in their minds - voters who must be protected and never crossed - perhaps has to change if political choices are to be made properly.
In the formative years of the current ruling class, runaway interest rates caused appalling damage.
The political horrors of raising rates forged a lasting imprint.
But now, when rates have been on the floor for five years, the reality has changed.
And maybe the psychology around policy decisions should too - not least because the army of home owners is being depleted by the march of the renter, who is entitled to protection too. And what about savers?
We speak glowingly of running your own business.
But wasn't the glossy image of the swashbuckling entrepreneur painted for the current ruling class by the bold strokes of 80s big hair and big phones?
Decades later, for it is decades, the reality of running your own firm is different for many.
There are countless success stories as the economy changes fundamentally, with more and more start-ups in business.
But for many, it is a hard choice, often involuntary, with an accompanying drop in income.
Are politicians making decisions based on their own experiences of a family doctor when, in fact, swathes of patients now have never seen the same GP more than once?
Are they trying to rebuild banking based on a nostalgic notion of the bank manager when it's a service few of us actually want, let alone something the banks will feasibly want to provide?
How can we make decent decisions about how to make the country better unless our own perceptions are left at the door?
Surely we must all look at life as it now is, not as it shaped us?
I still retain the right to be unfeasibly excited about Christmas but maybe the best present for our politics would be for leaders to aspire to be products, but not prisoners of their pasts.