Spending on police 'set to fall by a fifth'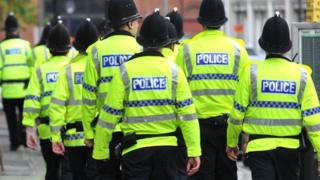 Spending on front-line policing in England is set to fall by a fifth in the next five years, according to the London School of Economics (LSE).
Budgets for adult social care could drop by eight per cent.
The analysis suggests council spending on roads, transport and housing could fall by 40% over the same period.
Tony Travers, of the LSE, said councils had tried to protect social care, leaving deeper cuts in other areas. The government disputes the figures.
"Those services that are not protected within local government, notably highways - thus there are more potholes - housing, culture, planning, things like that, they've all been cut substantially and all the evidence suggests that will continue to be the case," said Mr Travers, who compiled the figures for BBC Radio 4's World at One programme.
'Spending has increased'
He says further cuts are expected, whoever wins the general election, as the main parties at Westminster all intend to reduce the deficit.
The next government will set out spending plans in the new Parliament.
Mr Travers analysed how spending cuts were split from April 2010 to April 2014, then projected the same share of cuts forward until April 2019.
He examined the money provided to English constabularies. The analysis excludes the money spent on national agencies, and the money police can raise in fees
Local government minister Kris Hopkins said: "We disagree with this analysis, given it excludes £2.5 billion a year of new additional public health funding for councils.
"Leaving aside schools due to the move to academies, council spending has increased under this government in cash terms."
'Austerity challenge'
The £2.5bn for public health is ring-fenced, so it can only be spent on health, not other services, he said.
But council tax had fallen in real terms, public satisfaction had been maintained and there was still more councils could do to cut waste, he said.
Policing Minister Mike Penning said decisions on funding after 2015/16 would be made by the next government.
"There is no question, however, that police still have the resources to do their important work," he said.
"As HMIC's new PEEL assessment has found today, forces have met the austerity challenge so far, and police leaders are effectively managing resources and change in their forces to make savings, protect the frontline and cut crime."