'Conservatives should back votes for 16-year-olds'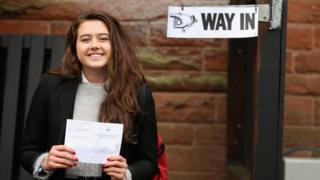 The Conservatives should back the idea of giving 16 and 17-year olds the right to vote, ex-minister Damian Green says.
The move would help his party re-engage with young people, who were a "tough audience" for it to win over, he added.
The former police minister also called for schools focused on "academic excellence" to be available across the country - and a greater priority given to migrants learning English.
Ministers have ruled out enfranchising 16 and 17-year olds for May's election.
But supporters of lowering the voting age say the recent Scottish independence referendum demonstrated how a wider franchise galvanises political debate and argument.
Widen appeal
Turnout reached 84% after 16 and 17 year olds were allowed to vote.
Under the terms of a future devolution package for Scotland to be announced on Thursday, Holyrood will be given the right to set the voting age for its future elections.
Mr Green, who served as immigration and policing minister before leaving the government in July, said the Conservatives needed to widen their electoral appeal if they were to win future elections.
In a wide-ranging speech on the future of the party, the MP identified young people as one of the groups that the Conservatives needed to focus on.
He suggested their instinctive economic and social liberalism provided an "opportunity for modernising Conservatives".
The party's support for equal marriage and its abolition of ID cards was an "attractive message" to take to young people who "don't like being told how to live their lives".
But during the speech in Kent he warned against aping UKIP, whose "social conservatism" would "turn off millions of potential supporters who have decades of voting opportunities ahead of them".
"I would prefer to welcome young people to a party whose values they share, if only we bothered to listen to them," he said. " As a sign of how we listen, we should think about giving votes to 16 and 17-year olds."
Mr Green, who has been long regarded as being on the left of the party, said the party's "modernisation" under David Cameron was unfinished and it needed to show ethnic minorities and other under-represented groups that the Tories were on their side.
'Culture wars'
However, he warned his party against embarking on a "another round of culture wars between mods and trads" which he claimed had done such damage in the 1990s.
He said he also backed policies traditionally associated with the right of the party, such as extending educational opportunity to those from less privileged backgrounds.
While not seeking a return to the two-tier state system of the 1950s, he said the "ethos of grammar schools" must be spread around the country.
He praised the extension of choice provided by new academies and free schools, but argued the party must go into the next election with a more radical approach.
"There is no reason in this varied landscape to prevent the creation of schools that specialise in academic expertise," he said.
The law bans the building of new grammar schools but changes made by the coalition government in 2012 enable enlargement of existing schools.